Steve Jobs hid iPad development from board member and competitor Eric Schmidt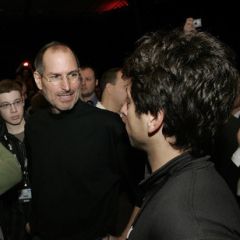 Back when Apple was dominating the smartphone business, and Google was still a search company, former Google CEO
Eric Schmidt
sat on Apple's board of directors. But tensions began to mount when Google entered the smartphone arena with the Android operating system.
According to Steven Levy's
In the Plex
, a book about life at Apple,
Steve Jobs
was infuriated by the similarities between Android and iOS. He was so peeved, in fact, that he kept the original iPad's development a secret from Schmidt. And that's no small task, considering the scale of the iPad's development and
launch
.
The rapidly intensifying competition between Apple and Google drove Schmidt to resign from Apple's board of directors in August, 2009. And a short 6 months later, we had the original iPad.
Nilay Patel, a former
Engadget
editor, believes that Android's timeline is more complicated than it seems. When the
T-Mobile G1
shipped in September, 2008, pinch to zoom wasn't available. And the
HTC Nexus One
didn't acquire the feature until February, 2010. But individual OEMs added the feature separately.
Patel believes that Apple may have threatened Google with a lawsuit over the multi-touch and pinch to zoom features, forcing them to remove them from the initial Android builds. If we had to guess, we would say that Eric Schmidt wanted to wait a while after his departure from Apple's board, to decrease the appearance that he was gleaning trade secrets from his time with Apple.
source:
Business Insider
via
IntoMobile