Google CEO Eric Schmidt might be the next U.S. Commerce Secretary
8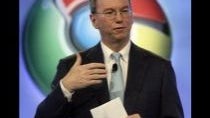 According to
Businessweek
,
President Barack Obama
is considering Google CEO Eric Schmidt for the position of the next U.S. Commerce Secretary. The current U.S. Secretary of Commerce, Gary Locke, is being reassigned as the ambassador to China. And the current U.S. ambassador to China, Jon Huntsman, is resigning on April 30th to enter the 2012 Presidential race.
Google's Eric Schmidt will be handing the CEO reigns over to
Larry Page
, one of Google's co-founders. While Larry Page and Sergey Brin are the engineering minds behind Google, Schmidt provides the business acumen. And that's why he's being considered for the Commerce Secretary position.
The U.S. government has a long history of appointing successful CEOs to the position. Meredith Broadbent of the Center for Strategic and International Studies explains that with an executive, "you get the management experience, and you get an understanding of a large complex organization that is active globally."
After leading Google for the past 10 years, and proving his ability to innovate and
excel
, we look forward to the possibility of seeing him as our U.S. Secretary of Commerce. But he will still face competition from the current U.S. Trade Representative, Ron Kirk; and the former Pfizer CEO, Jeffrey Kindler.
source:
Businessweek
via
Forbes
Recommended Stories