Stephen Elop leaving Microsoft...again
60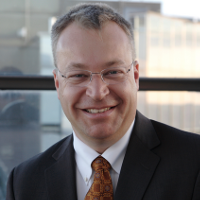 Back in September 2010, Stephen Elop left Microsoft for the CEO position at Nokia. Elop replaced Olli-Pekka Kallasvuo in the Chief Executive's office. After
Microsoft decided to buy Nokia Devices and Services
just three years later,
the door opened for Elop to rejoin the crew out in Redmond
. In April 2014,
the Microsoft deal closed and Stephen Elop came full circle
.
But Elop's second tour at Redmond is over. Microsoft announced this morning that it is making changes to its Senior Leadership Team which means that the executive vice president of Microsoft's Devices Group is once again departing. Elop, Kirill Tatarinov and Eric Rudder are leaving because of the shakeup, and Chief Insights Officer Mark Penn is leaving to start a private equity fund.
Terry Myerson, currently Executive VP, will head a new Windows Devices Group focused on the Windows PC experience. Elop and the other executives will leave following a transition period. The former Nokia CEO was
beaten out for the same position at Microsoft by Satya Nadella
, although there is no reason to expect that this had anything to do with his upcoming departure from the company.
source:
BusinessInsider