Stephen Elop at D9: rumors about Microsoft acquiring Nokia are "baseless," first Nokia WP coming end-2011
6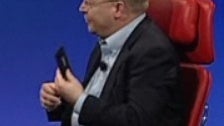 The D9 Conference is the venue bringing together one of the most influential people in tech and just mere hours ago it welcomed one of the most controversial CEOs in the history of the mobile industry - Nokia's own
Stephen Elop
. The Finnish company has led the industry in terms of sales for years, but after the trend-changing announcement of the iPhone in 2007, it's sliding on an increasingly steep downward spiral.
Nokia has lowered its second quarter outlook
and is in the process of updating its view for the whole year as sales of Symbian-based smartphones are taking a nosedive.
The salvation?
Stephen Elop confirmed expectations that a Nokia Windows Phone handset is set to arrive in the fourth quarter of the year the earliest and by fourth quarter Nokia hopes to get it to the market not earlier than at the end of December.
With that in mind, analysts are wondering more and more whether Nokia's CEO isn't part of a big plan of purposefully devaluating Nokia so the company could be acquired by Microsoft. Russian tech blogger Eldar Murtazin is the main source behind such theory claiming that Microsoft and Nokia are already discussing the buyout and results will be visible in three to four months. Yesterday, Murtazin alluded to the Microsoft-Nokia deal: "One small software company decided last week that they could spend 19 bln USD to buy a part of small phone vendor. That's it." But Nokia's Stephen Elop denial of the deal was very explicit: "There is
absolutely no discussion
. The
rumors are baseless
. As clear as that."
But denying those rumors didn't do much good to the company as after Murtazin's tweet feeded investors' hope about a way out and Nokia stock stopped sliding, the subsequent denial of the rumor put the shares back on the downward slope. In the two days after Nokia re-evaluated their quarterly result,
shares of the company have sunk 19.3%.
What follows below is a must-watch video of Stephen Elop's take on Nokia's transition process and acquisition rumors. But what's even more interesting is the fact, the chief executive refers to his own company, Nokia, a couple of times as "they" alienating himself from the company when referring to the reasons behind Nokia's poor success in the States. On one hand, it's true that Elop wasn't Espoo's CEO at that time, but on the other hand this lack of perspective is puzzling. Oh and did we mention that he
teases one of Nokia's upcoming Windows Phone handsets
? Check out the interview below for all the details.
source:
AllThingsD