Project Ara app helps you design your modular phone
5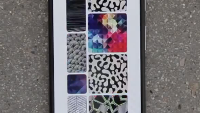 Earlier today, we told you about the
Spiral 2, the first Project Ara handset that will be offered to consumers
. With so many different modules to choose from (Google expects as many as 30 by year end), Spiral 2 buyers are going to need help designing their phone. That is where the Google Project Ara Configurator app comes into play. Not only does it allow you to see what your Project Ara phone will look like before you buy it, it can also show you what it will look like after you've owned it and want to swap out some of the current modules for newer ones.
Think of the MotoMaker app with the ability for the buyer to go beyond colors, designs and native storage capacity. The Configurator app will allow you to select things like the processor, camera, speakers and display.
We expect to see the app launched later in the year, at around the same time that Spiral 2 is released. For those of you serious about building a Project Ara phone, it will all start with the app.
source:
GeorgePosters
,
Slashgear