Square Enix's Dragon Quest IV surfaces on iOS, flaunts a typo and 40 hours of turn-based gameplay
8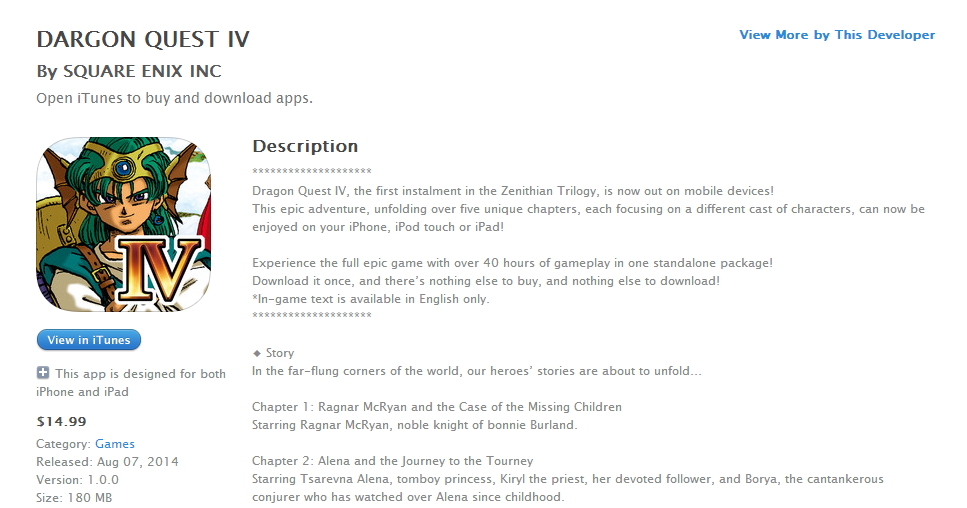 Initially released for the NES platform in the beginning of the 90s, Square Enix's Dragon Quest IV, a classis turn-based JRPG, has just appeared on the App Store. Don't bother to search for it under this name, however, because it has been listed as Dargon Quest IV. The typo's not at our end, mind you – the minor spelling mistake spurred a wave of playful and downright funny jokes since it got spotted. There's always a slight possibility that this typo has been made intentionally, so as to create a media buzz and promote the game even more
Typos and jokes aside,
Dargon Quest IV
Dragon Quest IV is a classic RPG game, which requires you to take control of a party of several characters, each coming with its own perks and abilities. The game consists of five different chapters, which will provide you with roughly 40 hours of gameplay. Each chapter comes with its own story and set of characters, so it's highly unlikely that you'd get easily bored with it. Quite the contrary – chances are that Dragon Quest IV will "glue" you to the screen of your device, figuratively speaking.
Similar to Square Enix's previous ports of its classics games on mobile devices (we are speaking about the
admired Final Fantasy
game series), Dragon Quest IV has been fully optimized for touchscreen displays.
What just arrived on iOS is the full version of the game (it doesn't come with any in-app purchasable content), so it comes with a pretty hefty $14.99 price tag, which is pretty typical for all of Square Enix's titles that have been re-released on mobile devices. An Android version of Dragon Quest IV is in the works and it should hit Google Play in the not-so-distant future.
Download: Dragon Quest IV (
iOS
)
via:
Gamespot