Square Enix announces Deus Ex GO: tactics, augmentations, and a level editor for your own maps!
4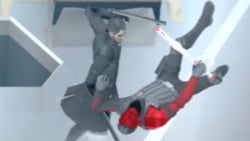 So far, Square Enix has transformed two of its most popular franchises into turn-based brain twisters. First came
Hitman GO
, which recreated Agent 47's world of tricky assassinations as a board game with chess-like pieces. Then came
Lara Croft GO
, which is a bit more animated, but at its core, still follows the unit-by-unit, turn-based movement and the tactics and logical challenges that come with it.
Well, it seems Square Enix is not done with the "GO" variants, as the company has just announced that another one of its famous IP will get its own entry into the puzzle genre. Futuristic agent Adam Jensen will be stealthily creeping his way through the levels of Deus Ex GO on smartphones and tablets this Summer.
Together with the announcement, we've got a short reveal trailer to whet our appetite. What little game footage we have shows us that stealth attacks on unsuspecting enemies would look beautifully brutal, the player will have a number of "augmentations" skills at their disposal, and openly attacking an enemy will be a viable choice, though, we'd imagine – not the smartest idea. The developers also promise a level editor, which should keep a community alive around the game for longer and provide gamers with endless hours of gameplay.
An exact release date is still to be disclosed.