Square Enix announces Hitman GO, a turn-based strategy with chess-like figures
1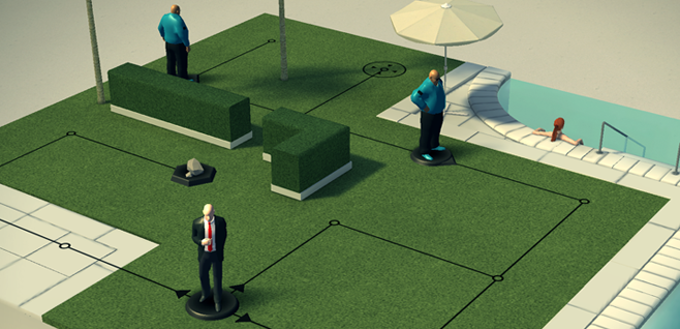 Square Enix Montreal, a subsidiary of the Japanese game developer, announced that Hitman GO, a turn-based strategy game, is currently in the works. Yes, fans of Agent 47, you got that right! Instead of playing as the bald assassin in a beautiful 3rd person shooter with stealth elements, Hitman GO will have a "quite different" and "totally unexpected" gameplay.
Yes, the signature stealth aspect of the game is still here, but instead of sneaking up on their victims, players will have to move set pieces over a grid. Agent 47, his enemies, and his targets will be represented by such "diorama-style set pieces". In order to get close to his targets, designated for elimination, the bald assassin will have to "infiltrate well-guarded locations" and avoid his enemies.
The developers claim that the innovative gameplay won't take Agent 47's tools and weapons out of the equation. On the contrary, players will have a lot of the assassin's tools at their disposal – various disguises, traps, and distractions, for example. Agent 47's deadly arsenal of numerous weapons will be available, too. Even the two "Silverballers", the bald assassin's signature weapons, will somehow be included in the turn-based gameplay.
The developer says that Hitman GO will be released sometime in the upcoming weeks as it's "almost ready for launch" – however, it is currently unknown which mobile platforms will get the title upon its initial release. All we know is that the innovative turn-based Hitman game will be available for smartphones and tablets alike.
source:
Square Enix Montreal
via
Pocket Gamer