Sprint's activation system overwhelmed by EVO 4G launch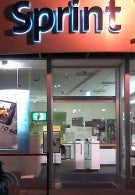 With heavy demand for activations taking its toll on Sprint's activation system, yesterday's launch for the EVO 4G was the experience that the carrier was sure they were going to see last June with the launch of the Palm Pre. But that is all water under the bridge now, and the sexy Android beast was in so much demand that the carrier's activation system crashed during the afternoon. This resulted in sales reps having to use such positively medieval tools like paper and pen to write out receipts. Customers who just happened to come in to their local Sprint store to pay their bill had to return home with their balance still outstanding. Some potential EVO 4G buyers were turned away and the situation was eerily similar to the experience that AT&T went through when the first-gen iPhone was launched in 2007.
Other interesting news to come out of launch day involved speculation that Radio Shack has listed on its contract, a $400 ETF for a CDMA iPhone sold on Verizon or Sprint. It could be just some necessary legalese that the lawyers requested be added, or perhaps it has a deeper meaning?
HTC EVO 4G Specifications
|
Review
source:
Engadget