Sprint not getting HP Pre 3
13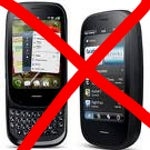 Wow, how things change quickly. When the original Palm Pre was launched in June 2009, it was seen as the
beginning of a major turnaround
not just for Palm, but also for Sprint. After all, the carrier had just announced a
$1.6 billion loss
. The webOS powered phone was supposed to challenge the Apple iPhone and even knock it down a peg. Things didn't go as planned, of course, and now that HP is about to release the Pre 3, it looks like Sprint will not be offering the device.
A trusted source for
This is my next
says that the HP Pre 3 will not be joining the Sprint lineup and HP is not working on any other product for the nation's third largest carrier. And actually, Sprint might not even care. The original Pre was a
major disappointment
for them despite
setting a record at the time, for first day and first weekend sales
. Even with the 6 month exclusive that the carrier had, Sprint soon became enamored with Google's open source OS and the recent launch of the HTC EVO 3D reconfirms Sprint's focus on Android.
Those Sprint customers who are hooked on webOS are going to have to
switch carriers
if they plan on moving up to the new Pre 3. And there are many reasons why current Pre owner should want to update to the new model. From the larger 3.6 inch screen to the 1.4GHz Qualcomm single-core processor and the front facing camera, the latest iteration of the HP Pre is a big improvement over previous builds of the phone. Pre fans out there-and they do exist-are going to want this new model, the first
major update
in the Pre since its initial launch, and if this source is correct, they are not going to find it at Sprint.
source:
Thisismynext
via
everythingPre