Sprint lands a Sharp AQUOS Crystal exclusive: 5" edgeless display, Harman Kardon audio
27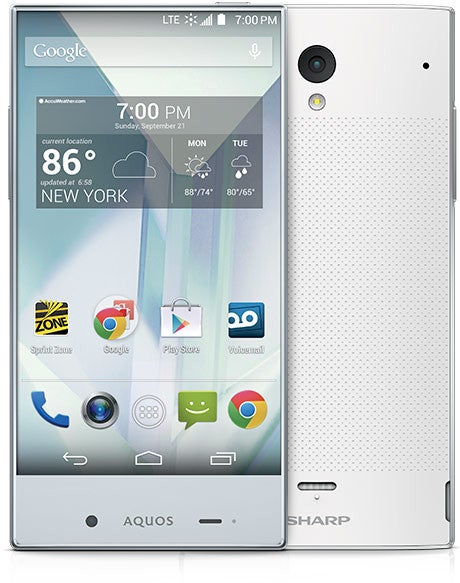 Boost gets the white AQUOS Crystal
When SoftBank
announced the revolutionary Sharp Aquos Crystal yesterday
, a little birdie was telling us that today's "Taкe the edge off" Sprint event in New York was all about that phone, and the edgeless handset indeed just became official on Sprint, as well as Boost and Virgin. The
Aquos Crystal
has almost no side and top bezels, which allows it to fit a 5" panel in a size that is more akin to a 4.5" model. Actually, the phone is just 5 inches (131mm) in height and 2.6 inches (67mm) in width. For comparison, that's about as compact as the
Moto G
, while having a half-inch larger display diagonal. Thus, the Crystal sports one of the best screen-to-body ratios in the industry, with about 78.21% of the front being a pure display surface - better than, say, the
LG G2
.
Spec-wise, the phone has a 5" 720p panel, an LTE-capable quad-core Snapdragon 400 SoC running at 1.2GHz, 1.5 GB of RAM, 8 GB of storage space, and runs on Android 4.4.2. The battery capacity is 2040 mAh, which might not seem much, but let's not forget that the Crystal display is made with Sharp's IGZO technology, so the company promises three days of battery life with normal usage.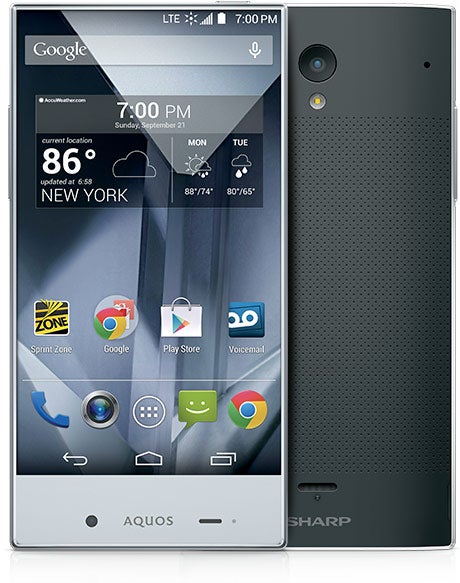 Black Crystal model stays with Virgin, while Sprint gets both colors
Additionally, the phone is equipped with a Harman Kardon sound effects engine when in headset mode, with support for "Clari-Fi" (restoring of information lost when compressing music), "LiveStage" streaming, and native compatibility with the Harman Kardon ONYX Studio Bluetooth speaker.
Best of all, the first tangible product of the Sprint-SoftBank collaboration comes with the great pricing of zero on a two-year contract, and $149.00 on prepaid with Boost or Virgin. The Sharp Aquos Crystal will be available for release in the USA on August 29, with pre-orders starting today. If you don't want to have it for free on Sprint, or for $150 with Boost or Virgin's services, the MSRP is just $239.99, a pretty great price for such an ergonomic handset indeed.
Furthermore, together with the Crystal, Sprint will inherit a great service from Softbank, called App Pass. It is essentially an app renting option, which will add $4.99 to your mobile monthly bill, but you will be able to install a curated selection of premium apps for free, so it might save you a bunch of money in the end, depending on how much you spend on apps. Some of the examples include OfficeSuite 7 Pro, Camera Zoom FX, Minuum Keyboard, CamScanner and Color & Draw for Kids, as well as games from powerhouses like Gameloft.