Gorgeous, "frame-less" Sharp Aquos Crystal smartphone coming to Sprint tomorrow?
62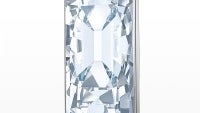 We pieced together a lovely puzzle today! The first part of it is that US carrier Sprint has a New York City event scheduled for tomorrow, Aug. 19. The tagline is "Take the edge off", and the invite is richly illustrated with crystals. Which leads us to the second part - Japanese carrier and Sprint owner - SoftBank - just announced a mouth-watering pair of smartphones, "incidentally" called the Sharp Aquos Crystal and Sharp Aquos Crystal X. The descendants of our beloved Asian monster, the
Sharp SH-04F Aquos
, are exceptional phones to look at, because they are almost bezel-less! Not just "LG bezel-less" - the new Sharp phones sport bezels as thin as a razor's edge! And one of them is absolutely coming to the USA.
The Aquos Crystal measures 5 inches (131mm) in height and 2.6 inches (67mm) in width at a substantial 0.39 inches (10mm) thickness. It weights 5 ounces (140 grams). Spec-wise, the phone shapes up to be a premium looker, but a mid-ranger. It has a 5-inch 720p display, an LTE-capable quad-core Snapdragon 400 SoC running at 1.2GHz and 1.5GB of RAM, 8GB of storage space, and runs on Android 4.4.2. The battery capacity is 2040mAh. Additionally, the phone is equipped with a Harman Kardon sound effects engine with support for "Clari-Fi" (restoring of information lost when compressing music), "LiveStage" streaming, and native compatibility with the Harman Kardon ONYX Studio Bluetooth speaker.
According to an official SoftBank press-release, the Aquos Crystal is scheduled for release in the USA on August 29, with pre-orders starting tomorrow. Check out some high-resolution photos of the gorgeous phone below.

The Aquos Crystal X, which will remain a Japanese exclusive for now, is the flagship version of the phone - it's upgraded to a 5.5-inch 1080p display, Snapdragon 801 CPU clocked to 2.3GHz, 2GB RAM, 32GB of storage, and a 2610mAh battery. Its dimensions are a slightly bigger 5.5 inches (139mm) height, 2.9 inches (73mm) width, and 0.43 inches (11mm) thickness.