Sprint announces the Kyocera Echo: one screen doesn't cut it anymore
55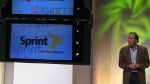 At today's NYC event (check how our
live coverage
went on),
Sprint
kept its promise and unveiled
an "industry first" device
, namely, the
Kyocera Echo
- a
dual-screen Android smartphone
with two 3.5" touch displays, which actually allow for a healthy sized 4.7" real estate when combined. By the looks of, Sprint is positioning this peculiar device as something between a modern smartphone and a mini-tablet. And yes, we noticed that the branding says "Kyocera". Just ignore that and continue reading.
In closed mode, the Kyocera Echo is your typical
Android 2.2 Froyo
smartphone that can do normal stuff like browsing the web, dialing contacts and... anything, really. However, the Echo becomes way more interesting as you open it (it utilized a hinge mechanism that is said to leave almost no space between both parts) to reveal the second 3.5" LCD screen. The second display, identically to the first, has a resolution of 480x800 pixels.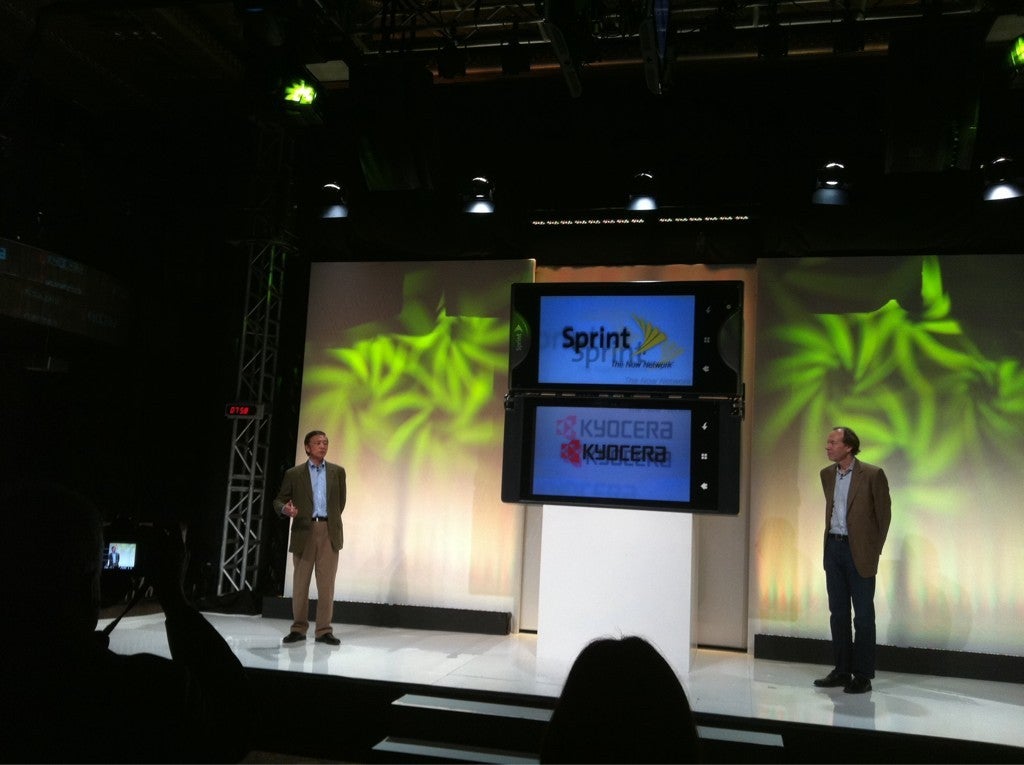 Kyocera's second modern-day foray into the realm of smartphones (the other recent one was the
Zio
) is actually focusing on the high end, as it also comes equipped with a powerful
1GHz Snapdragon chipset
and a 5MP camera. Unfortunately, it'll only sport 3G bands,
no WiMAX
compatibility, because Kyocera and Sprint wanted to get that launched as soon as possible, as well as keep the price decent.
You are probably wondering how the
software
is going to take advantage of this new dual-screen layout. Apparently, Kyocera has taken its time to rework most of the core apps of the Android 2.2 system, including the email client, picture gallery, video and YouTube players, etc. Unsurprisingly, the concept behind it is what we already find with tablets - on one side you have your inbox, for example, while on the other - the contents of the selected message. Only here we're going to have the inbox on one screen, and the content on the other! Thankfully, they will release special APIs for developers, which will allow them to design apps for the Kyocera Echo's unique dual-screen form-factor.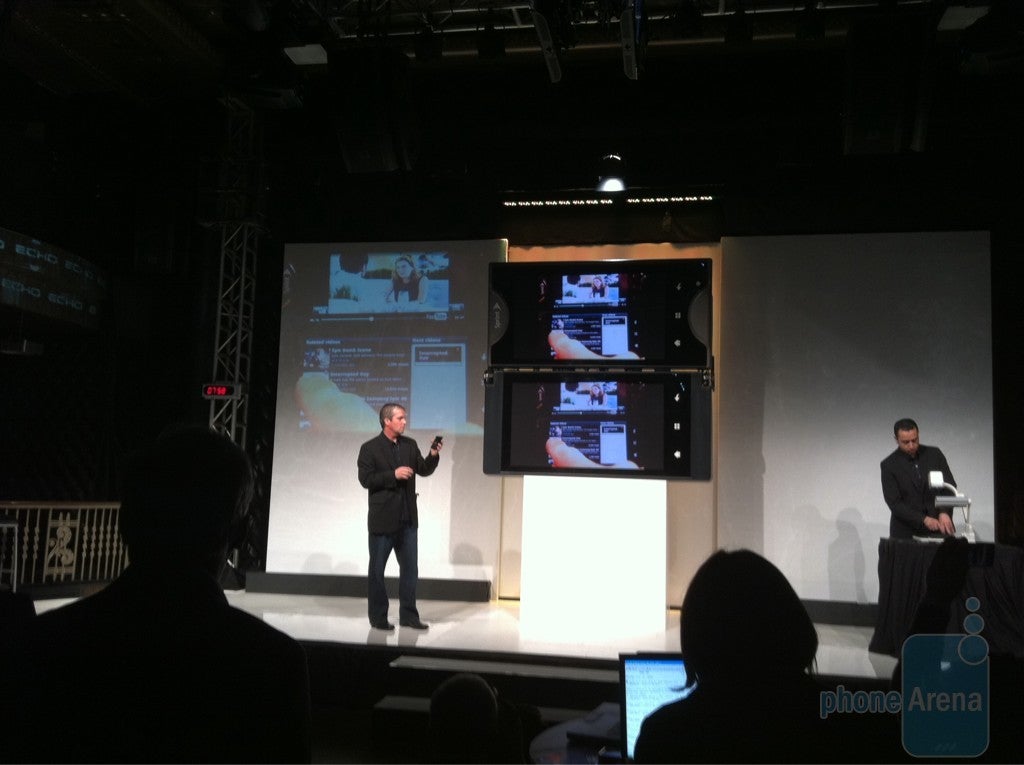 One of the most interesting features of the Kyocera Echo is its
Simul-task
mode
, which is almost described as the next level of multitasking. What it does is to allow you to work with two apps at the same time. For example, you can be browsing the web, while composing an email or watching a video at the same time. Well, it might be useful in certain situations, though we don't see it becoming a widely-used feature. Even more so when the apps that will be able to simul-task are limited to the web browser, gallery, YouTube player, phone, contacts, email and messaging.
So, what
battery life
can we expect from this dual-screen device? Would it be twice as short? According to Sprint, it's going to be a standard performing device in this category, which sounds a bit optimistic. However, you might be interested to know that they are bundling it with an additional battery for free. He-he, wise man you are, Hesse.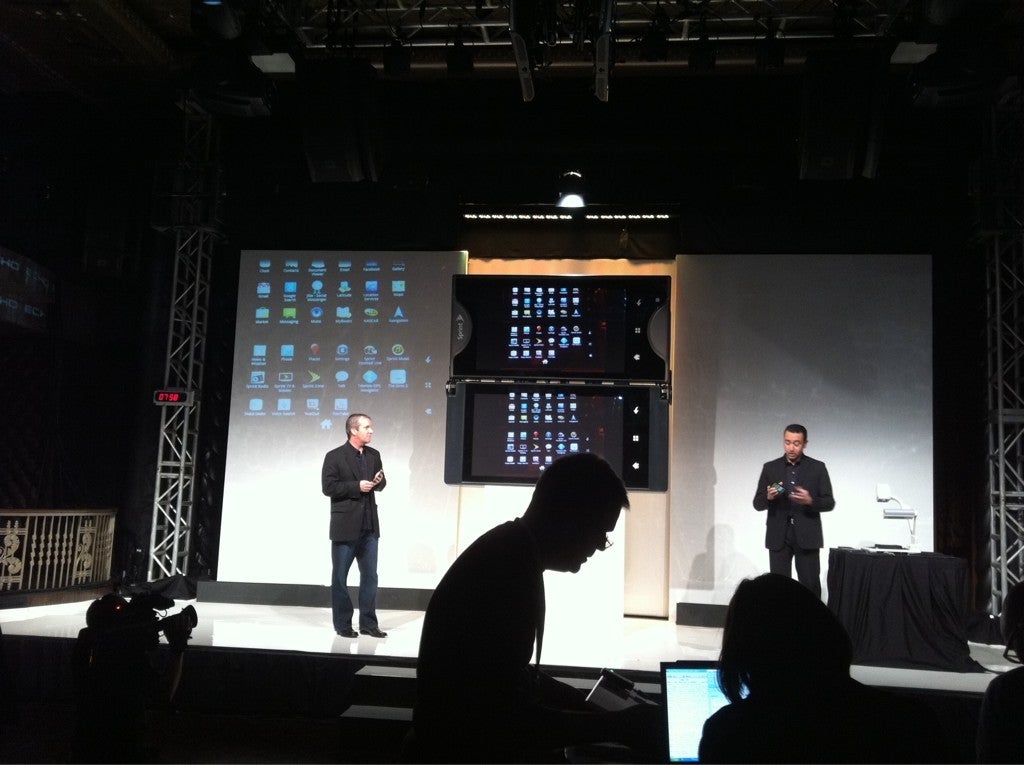 Clearly, not everyone is too fond of Kyocera, but the Echo seems intriguing enough to spawn a small Echo-community. The handset is coming out this
Spring
, at a price of
$199.99 on contract
. Well, guys, in the final analysis, it wasn't a phone with
glasses-free 3D
that we saw today, but rather a phone with 2x2D displays (which are still glasses-free, by the way), but don't be blue,
3D is right around the corner
now!
source: Sprint