LG Optimus 3D is officially confirmed, to come at MWC
2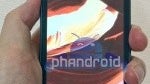 Finally, it's officially confirmed byLG – the LG Optimus 3D, the first phone to bring the "full 3Dexperience," will be unveiled and demonstrated at MWC. But we couldhear about it even earlier as Sprint is set to make an "industryfirst" announcement, which many expect to be a 3D smartphone.
Thefull 3D experience includes 3D recording, viewing and sharing. TheOptimus 3D comes with a dual-lens camera for the recording,while itsLCD screen will skip on the glasses, but will still deliverthe extra dimension effect, which is kinda cool.
And if so many threes and dees haven'tmade you feel dizzy yet, the LG Optimus 3D will also come with HDMAand DLNA support for seamless integration of the 3D wonder amongcompatible devices. Most importantly, LG underlines that it willdeliver a "complete platform"to address the lack of 3D content. A complete platform implies morethan just a couple of 3D apps and modifications, so we are eagerlywaiting to see the live demo of the Optimus 3D at MWC.
A picture of the handset leaked just yesterday, but - except for the look - itdoesn't confirm any other features. Nevertheless, we could guess ascreen size of around 4 inches and possibly a dual-corechipset to support the software, but take this with a grain ofsalt. No word on any other specs and it seems that 3D is the buzzword, which covers pretty much everything you need to know about thehandset according to LG. Could this handset match Sprint'smuch anticipated "industry first" announcement? Sound off in thecomments!
source: LG
Recommended Stories