Sprint CEO Dan Hesse says no big deals for Sprint until 2014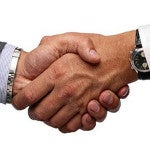 "I actually believe Washington would be receptive to consolidation to provide more balance to the big two."-Sprint CEO Dan Hesse
Ironically, it is Sprint CEO Dan Hesse who told Reuters that regulators are now open to the idea of a telecom merger. Last year,
U.S. regulators shot down AT&T's bid to purchase T-Mobile
and they were egged on by Hesse
who was against the pairing of the mobile carriers from the moment the deal was announced.
Hesse said that he believes that
Washington is now open to mergers in the telecom industry
, saying that the FCC and the Justice Department have an "
open mind
" toward consolidation.
Hesse's board shot down the acquisition
. Hesse now says not to expect a major deal from the nation's third largest mobile carrier until 2014. He did say that Sprint would do a deal sooner if waiting meant losing out to a competitor or if the deal was too good to pass up. The negatives to do doing a deal now are the financial pressures that would come from an acquisition and the carrier's low stock price, according to the executive. He added that with the investments Sprint is making now (on LTE 4G service, for example),
this really isn't the right time for Sprint to consider an acquisition
.
The Sprint CEO added that he didn't believe that U.S. regulators want to see a specific number of major carriers in the country, and that this was not a reason for the refusal of the Justice Department to sign off on AT&T's proposed purchase of T-Mobile.
"

I honestly don't believe there's a magic number of four at all,

" Hesse said, adding that the FCC and DOJ just want to make sure that the top two mobile carriers, Verizon and AT&T respectively,

aren't involved in any huge deal

.

source: Reuters