Spigen's cases are ready to protect your Galaxy Note 8 from day 1
12
This story is sponsored by Spigen. PhoneArena's opinions in this article have not been affected in any way!

The
Galaxy Note 8
is out and it is as beautiful as it is big and slippery. Yup, let's say it outright, a glass sandwich looks awe-inspiring, but is prone to slip from careless hands, especially when the device is as tall as the Note 8 is. And, with it's price-tag, that'd be one expensive slip!
Of course, you'd be considering protection. If you have a less adventurous lifestyle, you'll probably do good with a slim cover that improves grip, or you could "go naked" and only keep a rugged case around for the times you are out and about on a trip. If you are the active kind, you are probably used to juggling a few rough cases, picking them out to suit your current adventure.
Well, whatever your need, case maker Spigen is sure to have you covered. Lets take a look at some of their most popular lines, as they have now been expanded to cover the
Galaxy Note 8
:
Rugged Armor | Rugged Crystal
The Rugged Armor series is a long time fan favorite. The reason behind that is that it is fairly slim, looks stylish, provides great grip, and still offers a considerable amount of protection with a snug fit, military-grade shock-resistance, and a pronounced lip to protect the display.
But, for the Note 8, Spigen is doing something special. The company is introducing the new Rugged Crystal — same concept as the Rugged Armor, but it's made entirely out of transparent TPU. So, you get the slim but protective case in a material, which still showcases your shiny Note 8!
Tough Armor
The Tough Armor family is quite popular with the more active folk and is probably the first shape that comes to mind when one thinks about getting a super-durable case. It adds quite some bulk to the phone, but that's all justified by the dual-layer protection which is there to make sure that your phone survives the most unfortunate drops.
Despite being a bit big, the Tough Armor is made of lightweight materials, so it isn't a drag to carry around. It also incorporates a kick stand, which any media consumer would appreciate.
Neo Hybrid
The Neo Hybrid is another best-seller due to its classy duo-tone design. You've got a polycarbonate bumper and a schock-absorbing TPU shell, both wearing different colors for the different variants of the case. It looks fashionable, doesn't add too much bulk to the phone, improves grip, and is lightweight.
Spigen Neo Hybrid for Note 8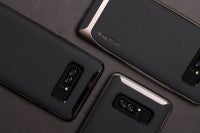 Thin Fit
OK, so you want an everyday case, which doesn't interfere too much with the Note 8's natural profile and gives you direct access to its high-quality, clicky buttons. Spigen has an offering in that niche, too — the appropriately named "Thin Fit". It's a slim cover, which snaps to the device and holds it tight. Cutouts at the appropriate places give you full access to the handset's metallic buttons, and there's very little there to add much bulk. Still, you get grip and a bit of lip to protect the display from everyday scuffs.
Spigen Thin Fit for Note 8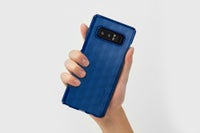 Ultra Hybrid | Ultra Hybrid S | Liquid Crystal
Sometimes, slapping a case on a beautiful device like the Note 8 is a bit painful — what's the use of having it in any shiny color if you are going to hide it behind a solid case? That's where the transparent series come in place. Spigen's Ultra Hybrid offers a polycarbonate bumper with a TPU back that keeps the phone's glass back fully visible. The Ultra Hybrid S does more of the same, but adds a kickstand for your media consumption needs. And if you want to have everything visible, including the phone's frame, you can go for the Liquid Crystal case, which is a fully transparent TPU shell.
Neo Flex screen protector
The Spigen Neo Flex screen protector is a TPU display cover, which is applied via wet application. While it's a bit more of a cumbersome task than just slapping a protector on, the wet process ensures a tight fit, no bubbles, and complete protection. The screen cover is self-healing, getting rid of minor scratches by itself, and is also compatible with all Spigen cases, allowing you to protect your device fully.
►Check out the full collection of Spigen cases for the Note 8 here!