Sony teases its tablets in an enchanting gadget love story
1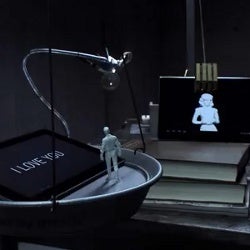 We've heard about
Sony's S1
9.4-inch tablet reminiscing a folded magazine. We've also heard about the
Sony S2
with its mind-boggling dual-screen setup. But did we know they were capable of delivering emotions? Sony has managed to humanify its tablets in an enchanting
love story
of the S2, the feminine tablet, setting on a quest to reach the masculine S1. It all starts with a message traveling through the dark fields of gadget circuitry, only to be delivered to the S1 tablet.
We won't spoil the rest of the story, but there is a happy ending to this first episode in a series of five videos, all aimed at revealing Sony's "Two will" concept. Oh and you didn't expect any additional
technical details
, did you? Because you don't get them unless you count the fact that both tablets feature what looks like vanilla Honeycomb, at least judging by the familiar capacitive buttons. But it's certainly worth a look, so check out the Sony Tablet video and feel free to share your thoughts about it in the comments below!