Sony announces a duo of PlayStation-certified Honeycomb tablets
16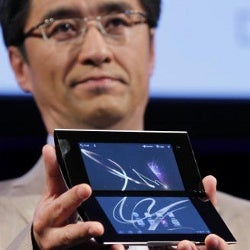 Sony's tablet design leaked out in February and we've been waiting to hear more for nearly two months.Now, finally the company announced two new Honeycomb "Sony Tablets" - the Sony S1 and S2 -at its press event in Tokyo and both are PlayStation certified. Thetablets both feature the standard Wi-Fi connectivity, but what's moreinteresting – they are both 3G/4G "compatible" as Sony puts itand we are hopeful that means full 4G connectivity once the tabletsare released this fall.

The first one, codenamed Sony S1, also knownas the Qriocity, comes with a 9.4-inch screen. It's a close copy ofthe mockup we saw back in February, focusing around an "off-centerof gravity design," which reportedly makes it easier to hold. Underthe hood, an NVIDIA Tegra 2 chip is responsible for running Honeycombskinned with a "Quick and Smooth" interface, tailor-made fortouch input. The tablet also has both front and rear facing cameras.What Sony aims with the S1 is not only standalone functionality, butclose integration with the company's line of products as the tabletdoubles as an infrared remote for the company's TVs. In addition, PlayStation-certified instantly translates into loads of quality gaming time. Actually, we saw Crash Bandicoot running on the S1 with on-screen controls mimicking the look of a PlayStation controller.

The S2reminds the Kyocera Echowith its dual-screen setup. Two 5.5-inch screens come with aresolution of 1024 x 480 pixels each. The S2 runs on a Tegra 2 chipand has a camera, while on the software side of things we have a custom-made user interface including a tweaked outbook reader application and an email app allowing to type on one of the screens, while looking at the message on the other. The two screens arehinged together making the whole package look much like a bulky casefor glasses, but as big as it seems Sony's own Kunimasa Suzukidemonstrated its pocketability by taking it out of the pocket of hisjacket.
"'Sony Tablet' delivers anentertainment experience where users can enjoy cloud-based serviceson-the-go at any time. We're aiming to create a new lifestyle byintegrating consumer hardware, including 'Sony Tablet' withcontent and network," Suzuki mentioned. Check out the video below for a first peek at the look of the tablets and don't hesitate to let us know what you think about the Sony tablets in the comments below.

source: Sony