Sony reveals features of the Xperia Z3 that you might not know about
41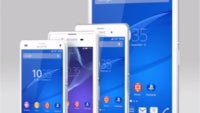 Sony published an article in its blog, detailing some new features of the Xperia Z3 series (Xperia Z3, Xperia Z3 Compact, Xperia Z3 Tablet Compact), which the manufacturer missed to flaunt during its IFA 2014 presentation. The Sony Mobile Blog claims that the features are 9; however, the first one in the list is something Sony has had for a while on its devices – NFC. We assume it's there just so the article can have a "3 + 3 + 3" in its title (Get it? Because it's for the Xperia Z
3
), and to poke fun at Apple's iPhone 6, of course.
Anyway, here's what Sony says you don't (but should) know about its new flagship:
NFC – Sony's had this feature on its flagships ever since the Xperia S, back in 2012. However, as we previously mentioned, it does not hesitate to say "We were NFC

before

it was cool"
Optimized for Sony headphones – Sony claims that Z3 series devices have pre-set adjustments to accomodate different models of Sony headphones and provide "the best possible [audio] quality". This remains to be seen (ok, heard) and, needless to say, we can't wait to put it to the test
Pause while recording – Z3 devices will now allow the user to pause, while capturing video. This means that instead of hitting stop and record, when avoiding boring moments, which means ending up with a bunch of different clips from the same event, you can now record separate clips in one video file.
Easily customizable quick settings – you can customize the drop-down quick settings menu quickly and easily, says Sony. Drop the menu, press edit and a row of shortcuts to different settings appears at the bottom of the screen. Drag and drop any shortcut you wish into the drop-down menu and it's now there
Ultra Stamina Mode – we are familiar with Sony's Stamina Mode from before – a battery-saver, which turns off certain functions of the phone, while it's in standby. Well, the new Ultra Stamina Mode takes things even further and limits the phone's functionality to only basic functions. Supposedly, this gives it a week of standby, off of a full charge
Smart Screen Rotation – this one sounds interesting. Sony says that its new devices will be able to detect how they are being held, thus preventing unwanted screen rotations. It should be helpful, for example, in times when one is looking at their phone, whilst lying in bed
Contextual behaviour – Sony says that you will be able to silence a ringing Z3 phone by turning it over, or pick it up by bringing it up to your ear. Furthermore, if you are reading something, the phone will detect that it's being held and will not turn the display off. Letting it go will allow the device to sleep
Bluetooth Unlock – you can set up your locked Xperia Z3 device to unlock automatically, when a certain Sony Bluetooth device is close. It could either be a Sony SmartBand, a Sony SmartWatch, or any other of the company's Bluetooth peripherals – like a headset.
Also, check out the videos below, for some marketing materials that shine a light on few of the aforementioned functions.
We named the Xperia Z3 Compact
Best Phone of IFA 2014
, simply because we believe it's a great all-rounder that can easily fit in anyone's pocket. What do you think of Sony's Z3 series?