Best smartphone of IFA 2014: PhoneArena Awards
46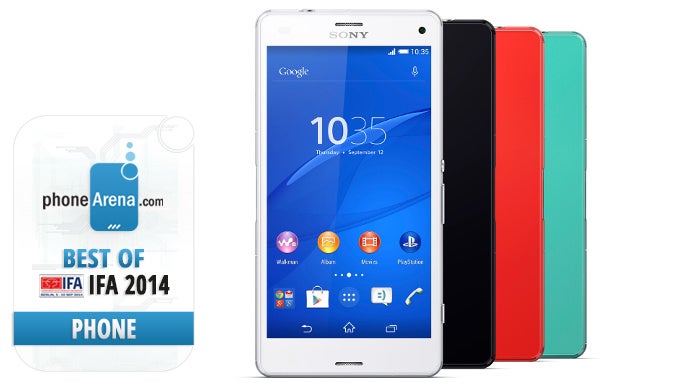 Xperia Z3 Compact, Sony's new 'do-all-stay-small' phone, which combines top-notch specs with compact dimensions, is PhoneArena's choice of best smartphone of IFA 2014.
IFA 2014 is still ongoing, but at this point, all of the new devices that might be of interest to us have been introduced. We've seen the fantastic
Sony Xperia Z3
, the
Samsung Galaxy Note 4
, the innovative
Galaxy Note Edge
, and even one very impressive phablet from Huawei - the
Mate 7
. However, we have the tradition of honoring one handset that we consider most exciting from each tradeshow, so that's what we'll have to do now.
It's a tough decision, because IFA 2014 has presented us with a number of great gadgets. All of the above-mentioned are superb phones that will eventually find their loving audience. And since every person is different and has a different taste from that of others, you can imagine how hard it is to come up with just one device to give the award to. Still, this isn't a "best" list. For all the glamorous phones and gadgets from IFA 2014, be sure to check out our summary post
right here
. But the idea right now is to choose the one smartphone from IFA 2014 that we found best all-around.
As you can imagine, almost everyone from our team had a different opinion on this, but in the end, there was a somewhat surprising contestant that managed to get ahead of the others - the Sony Xperia Z3 Compact.
Yep, this time, we aren't going for the "biggest and baddest" phone there was at the show. This time, most of us have decided to vote for the phone that they would actually choose to carry in their pockets, and it turns out that the Xperia Z3 Compact is the device that fits this scenario best for most of us.
The Xperia Z3 Compact is the second generation of what may be considered Sony's "do-all-stay-small" line of Compact smartphones, and we think the manufacturer has done a wonderful job designing the handset and stuffing it with truly valuable features. In the more than reasonable size of 5.01 x 2.56 x 0.34 inches (127.3 x 64.9 x 8.64 mm), Sony has packed a sizable 4.6" display, the powerful Snapdragon 801 AC processor, a 20.7 MP G Lens camera, a juicy 2600 mAh battery, and even IP 68 water and dust resistance. Sounds like one powerful little beastie to us!