Sony promotes the waterproof Xperia M4 Aqua by reminding us that phones are filthy
10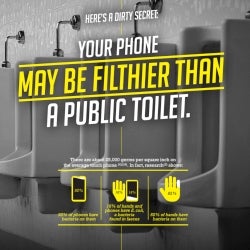 Sony recently recently launched dirtyphones.org, a website that explains in almost thorough detail that our smartphones could be filthier than a public toilet. Falling just short of triggering a microphobia crysis, the website promotes the waterproof
Sony Xperia M4 Aqua
as a washable phone.
As the name implies, dirtyphones is full of stats that explain just how dirty and bacteria-filled the average smartphone is. According to the website, 92% of all smartphones have some sort of bacteria on them, while 16% of them are infested with E coli, which is a bacteria usually found in feces.
The website also reminds us that phones usually encounter bacteria in places such as subways, restaurants, public restrooms and gyms, and that we should clean them as often as possible. The website moves on to mention that while smartphones can be cleaned using tissue paper, alcohol wipes, or UV cleaners, the simplest way is to wash the phone, which leads to promoting the waterproof, washable Xperia M4 Aqua.
For extra scary points, the website also comes with a tool, called the Germ-o-Meter, which will give you a rough estimate of how many germs might be on your smartphone at the moment. Head over to the source link below to find out what boxes to tick for an ultra-filthy estimate.
Aside from being waterproof, the Sony Xperia M4 Aqua comes with specs such as a 5-inch 720 x 1280 display, the upper mid-range Snapdragon 615 chipset, 2GB of RAM, a 2400mAh battery, and either 8GB or 16GB of microSD-expandable internal storage. In the camera department, the Xperia M4 Aqua is equipped with a 13MP primary camera, and a 5MP front-facing secondary shooter.