Sony launching the Xperia Z1, Xperia Z Ultra and SmartWatch 2 in the US
26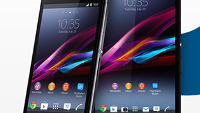 If you are a Sony fan, but live inthe States, then you probably know by now that the Japanesemanufacturer doesn't have the strongest positions stateside, whichmeans that the newest Sony products usually take a while to reach thecoast. Luckily for you, today marks just that day, for Sony islaunching the Xperia Z1, along with the giant Xperia Z Ultra and itsSmartWatch 2, or a trifecta of sorts.
Sony Xperia Z1
Being the hottest of the pack, the5-inch SonyXperia Z1 ought to garner the most attention. Unfortunately, itdoesn't seem like Sony has found a partner carrier to carry its newflagships, for the Z1 is only available unlocked for $669.99 for theHSPA+ version (the 4G LTE version...??!?!?).
The Sony Xperia Z1 fitsour definition of a hardware beast perfectly – it's got the latest,most powerful Snpadragon 800 on board, 2GB of RAM and a massive20.7-megapixel camera with Sony's Exmor RS sensor. And if that isn'tquite enough to cater to a specs nerd's dream, the added perk ofwater- and dust-resistance ought to satisfy even the most exactingamong you.
The Sony Xperia Z1 will be madeavailable from Sony's official site, and a number of selecte-tailers, which means that it's coming fully unlocked, though this also means that no carrier will be shouldering the costs for you.
If you've been eying the Sony XperiaZ1 for a while, then checking ourin-depth review right about now would be more than a good idea.
Sony Xperia Z Ultra
The increasingly popular phablet sector wasn't left ignored by Sony, and the XperiaZ Ultra is what the company is throwing at it. At 6.44-inches,the Xperia Z Ultra is simply massive,and it really is edging on tablet territory, though in our experienceit was quite the looker, not to mention decidedly more elegant thanmost 7-inch tablets.
Much alike the Xperia Z1, the Xperia Z Ultra isa hardware powerhouse of pretty much identical proportions, the onlydifference is that it features a less impressive 8-megapixel camerawith Sony's Exmor RS sensor. That, and the fact that unlike the ZUltra, you can at least try and fit the Z1 in your pocket.
TheSony Xperia Z Ultra will be made available from Sony's official siteand a number of select e-tailers. The MSRP on the phablet is $649.99for the HSPA+ model, and $679.99 for the LTE one, so, once again, unlocked, but no carrier subsidy.
Itchingto know more? Ourin-depth reivew of the Sony Xperia Z Ultra is right this way!
Sony SmartWatch 2
Letsbe honest – some people already view smartphones as démodé. Thosetechnology nuts among you that share this notion should be happy tosee that Sony is also bringing the SmartWatch 2 to the States for anacceptable $199.95.
The new iteration of Sony's wearable features awaterproof body, a 1.6-inch, 220x176 pixel non-backlit transflectivedisplay that is readable outdoors. That one is said to beenergy-efficient enough to have Sony assure us that you can get threeto four days under normal usage. Best of all, unlike Samsung's GalaxyGear, Sony's SmartWatch 2 can actually be paired with any Androiddevice, which is an enormous advantage. You can check our comparison of the two watches right here.
Likethe rest of the new Sony goodies, the SmartWatch 2 will also be madeavailable through Sony's official store, and the company will alsopartner with select e-tailers that have remained unnamed.