Sony details its ultra-bright WhiteMagic display tech to make us salivate over the Xperia P
7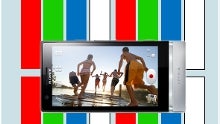 We wrote about
Sony's upcoming WhiteMagic display tech
when it was fresh out of the lab last year, and the screen geeks that we are, immediately envisioned it slapped on a phone display.
Brightness, together with screen reflectance ratio, are the two variables on which outdoor visibility depends, and together with battery life are the areas where today's smartphones and tablets are lacking the most.
That is why we welcome any new tech that increases brightness and reduces power consumption, and WhiteMagic seemingly does both. The
Sony Xperia P
is equipped with a 4" WhiteMagic display, whose peak brightness reaches the
hefty 935 nits
, almost as much as the brightest 1000 nits phone screen out there on the
Nokia 701
. For comparison, the brightest Android display is currently the 4.3" NOVA Plus on the
LG Prada 3.0
, with 800 nits. Sony's claim is that this is
the brightest smartphone screen at this pixel density
, and we agree, since the 3.5-incher on the Nokia 701 has about 210ppi, compared to the Xperia P's respectable 275ppi.
How did Sony achieve its WhiteMagic technology breakthrough? With white... pixels, of course - the usual red-green-blue RGB matrix here is RGBW. Traditionally, the light has to pass through all three pixels to mix various proportions of red, green and blue so as to form white.
With adding a white pixel, the light passes directly through it to form the true white. Thus you can either save 50% of the backlight energy required to pass through all three pixels in RGB matrices, or have twice the luminosity at peak brightness.
And on the Xperia P Sony has done the wise thing by making the phone chose one of these modes automatically. When outside on a sunny day, we all know how frustrating it is to try and use your smartphone, whose screen all of a sudden pales in comparison with the rays pouring on it. The Xperia P's ambient light sensor then revs up the brightness to its maximum 935 nits level, making the screen more visible in direct sunlight.
When indoors or on a cloudy day, the sensor tones down brightness to about 530 nits, which is the typical maximum LCD screen brightness. In that indoor mode, the handset's backlight consumes about 50% less energy compared to conventional LCDs, since the only half of the LED backlighting elements are required to work.