Thousand points of light: the brightest mobile display to date on the Nokia 701 compared
35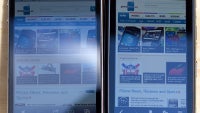 If we are asked which feature we'd like improved on currentsmartphones, apart from the obvious contender battery life, we'd answer screenbrightness. Average pixel density we can live with, but the brighter thedisplay the less annoying its outdoor usage, especially if you have that oldyellow star shining directly on your phone's screen while you are trying to quickly look up a contact, or check a website.
The Nokia 701 manages to cram in the brightest screen on amobile phone to date, which, with its 1000 official nits, is almost 50% easier to seeoutside than the LG Optimus Black, for example, with its 700 nits, or the previous champion Nokia E6 with its 900 nits. The E6 excels in pixel density, though, with its Retina Display-like 325ppi.
Now let's cut to the chase and examine this sweet 3.5"LED-backlit IPS-LCD display on the Nokia 701, with 360x640 pixels and the ClearBlack technology, whichmanages to shine like a crazy diamond with 1000 nits of brightness. In short,having a stronger backlight, or whatever other trick the screenmanufacturer is using to make the display brighter, is great outside. Comparedto some other phones we put it next to in the sunshine outdoors, it was waymore visible at full throttle.
To put things in perspective, we compared the Nokia 701 outside with the Apple iPhone 4, which can hit peak brightness of about 600 nits, not shabby at all, and the Samsung Galaxy S II, which goes up to around 400 nits. Nokia says that due to the ambient light sensor the effect on battery life is minimal, as you won't always have the screen at peak brightness, but it's good to have a luminous display when you need it, and we tend to agree. Our unscientific test showed that running an HD movie at full brightness claimed about 30% more juice out of the battery than at average luminousity, but that can be said for most other smartphones as well.
As you can see on our improvised outdoor setup, comparing the Nokia 701 1000 nits to the iPhone 4 and Galaxy S II at maximum brightness, the difference in visibility is discernible even on pictures and video, which sport some reflections from clouds passing by, and in reality it is even more visible. The worst performer was the screen on the Galaxy S II, which is saved only by its very low reflectance ratio outside. It's not necessarily a feature inherent for the AMOLED tech, since the Nokia X7 hits about 700 nits, for example, although the lack of backlighting with OLED displays probably plays a role somewhat.
What do you think, is increased brightness on your wishlist for the next generation of mobile displays, after we get past the resolution craze?