Sony Xperia XZ3 vs Google Pixel 2 XL: first look
6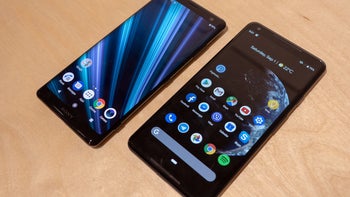 Okay, we know it might seem a bit unfair to compare these two side by side. After all, the Google Pixel 2 XL is almost a year old by now, while the Sony Xperia XZ3 was announced only a couple of weeks ago. Google's top phone, however, is not one to be underestimated. Even in a race against the Xperia XZ3, we're pretty sure it could stand its ground in key areas. Let us dive further.
Design and display
It goes without saying that neither of these two phones can be described with the word "compact". Both are substantially large, and with prominent bezels at the top and bottom to house their front stereo speakers. The Google Pixel 2 XL is a bit slimmer and lighter, though, while the fingerprint scanner is in a spot easier to reach and supports various interface gestures. Also, some might prefer the Pixel 2 XL's dual-tone, metal-and-glass back design as it is less prone to collecting fingerprints. But in our opinion, the Xperia XZ3 is still the more stylish, better-looking smartphone with its curved display edges and all-glass back side. And it comes in a wider variety of colors, too!
Both the Pixel 2 XL and the Xperia XZ3 carry large, 6-inch OLED displays with high resolution of 1440 by 2880 pixels. Specs, however, don't paint a full picture as to the naked eye, the screen on Sony's flagship simply looks better. It has been known for a while that some Google Pixel 2 XL units exhibit certain image quality issues, such as blueish tint or inaccurate colors. The screen isn't bad per se, but out of a high-end phone, we'd expect better.
Software and hardware
Both phones run Android 9 Pie – the latest version of Google's mobile operating system. Two thumbs up for that! The experience, however, differs in a number of ways. The Pixel 2 XL comes with some Pie features that other Android phones have yet to adopt, including the new gesture navigation interface (classic on-screen buttons are available as well). We're also currently checking out Google's
Digital Wellbeing
feature on our 2 XL, not knowing when (or if) the XZ3 will ever get it. And the software is clean, swift, and free of bloat, as we've come to expect out of a Pixel phone.
The Xperia XZ3, on the other hand, sticks to classic on-screen buttons for navigation. We're told that the phone will adopt Pie's intelligent auto-brightness adjustment, as well as the screen rotate suggestions and the battery life optimizations brought by Android 9. Like the Pixel 2 XL, the XZ3 also favors a clean look for the interface, but adds a handful of features that have yet to prove their usefulness. Side Sense is one of them, displaying a list of shortcuts to frequently accessed apps and settings when you double tap on the curved edge of the XZ3's display. And if you lift the phone and hold it horizontally, as if you were to take a photo, the camera viewfinder pops up automatically.
At a glance, the software on both phones runs swiftly despite the fact that the Pixel 2 XL has the older Snapdragon 835 while the Xperia XZ3 runs the newer, more powerful Snapdragon 845 SoC. Still, the latter should prove more capable of running the latest games at better framerates. We should point out that only the Xperia XZ3 has a microSD card slot for storage expansion, while the Pixel 2 XL has either 64 or 128GB of space built in.
Camera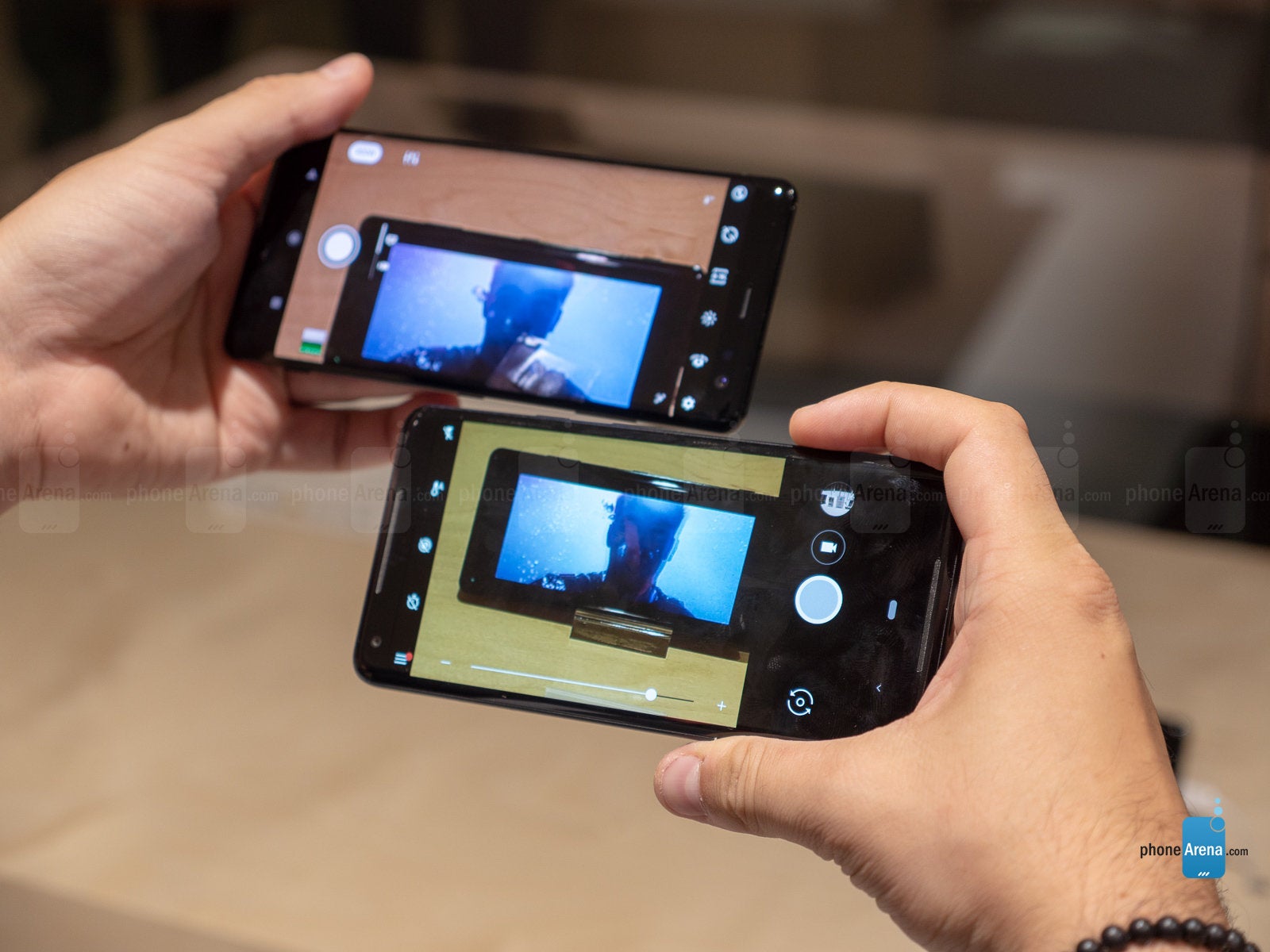 While dual cameras are all the rage among smartphones nowadays – and with triple cameras peeking from around the corner – both the Sony Xperia XZ3 and the Google Pixel 2 XL stick with single main cameras. Sony's 19MP MotionEye cam stands out with cool features like 960fps slow-motion and 4K HDR video recording, neither of which are available on the Pixel. Google's phone and its 12MP camera, on the other hand, impress with their ability to easily take portrait photos without relying on a secondary cam.
But more importantly, the Google Pixel 2 XL excels at taking photos. Even today, almost a year after its debut, Google's phone is still one of the best shooters in town, as many of our tests have shown. Knowing how well the Pixel 2 XL camera performs in all sorts of conditions – and having in mind that the XZ3 uses the same camera hardware found in the XZ2 – we won't be surprised to see it outperform Sony's flagship, especially during a low-light camera test.
Expectations
As we said in the beginning, the Google Pixel 2 XL is not a phone to be underestimated. Despite being nearly a year old, it is still a phone worth checking out if you're a fan of Google's clean, lightweight software experience, or if you simply want a phone that takes great photos. Meanwhile, the Sony Xperia XZ3 is shaping up as a phone that's a better fit for multimedia consumption, not to mention that it has a newer processor and a more classy look. Which of these two should you pick? Well, holding off would be your best move for now – both because our in-depth Sony Xperia XZ3 review will take a few more weeks to arrive and because the brand new Google Pixel 3 phones are only a month away from becoming official.
Recommended Stories