Pixel users can now sign up for Android's Digital Wellbeing beta app
1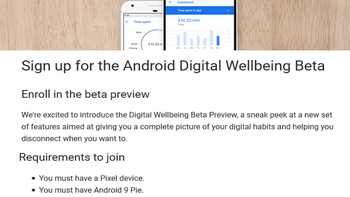 The latest builds of iOS and Android are getting new features that allow users to monitor the amount of time they spend on their smartphones. This came about after many so-called experts and analysts said that it was up to both Apple and Google to rectify "smartphone addiction." This might be the only industry where companies are criticized for making their products too appealing.
Apple's new Screen Time tracks iPhone usage and the usage of individual apps. Time limits can be placed on apps in order to prevent your kids, your spouse and even yourself from overdosing on social media.
The New York Times
last month tested Screen Time on a teenager and
found her daily iPhone usage was cut in half after three weeks
.
Android 9.0 Pie will feature the Digital Wellbeing app, and since Google's Pixel phones can now be updated to Pie, Pixel users can sign up for the beta for the Digital Wellbeing app. There are four sections to Digital Wellbeing including:
Dashboard-this gives you a quick rundown on how long you use your phone (computed hourly or daily), and which apps have taken up most of your time. It also tallies the number of notifications you've received and the number of times you've unlocked your phone.
App Timer-Digital Wellbeing allows you to cap the amount of time you use an app on a given day. App Timer tells you when all of the time you've allotted for a particular app has been used up. When this occurs, the app's icon is "grayed out" on your screen, although it still can be opened.
Do Not Disturb-the Do Not Disturb feature now blocks out visual notifications in addition to audio alerts. You won't know that you've received a notification until you disable the feature.
Wind Down-perfect for those who can't get to sleep because they are scrolling through all of the latest tweets. With this feature enabled, you can set a time at which the Night Light and Do Not Disturb features are turned on, and the screen turns to grayscale.
If you own a Pixel device, click on the sourcelink below to sign up for the Digital Wellbeing beta app. Again, you must own a Pixel that is running Android 9.0 Pie.