Sony Xperia X Q&A: Your questions answered
13
In case you missed it,
our review of the Sony Xperia X
is live. Provided that you just want the TL;DR, here's the bottomline: it's not a bad phone, but not worth the money Sony's asking for it. And ultimately, it's the bounce for the ounce that determines whether a phone is a
"hit"
or a
"miss"
.
Anyway, there are most probably numerous slightly obscure questions that we did not answer in our review. Our recent Q&A sessions about flagship devices like the Galaxy S7, HTC 10, and LG G5 are the living proof that many of you have such questions. And we are always eager to answer as many of them as possible!
We
gave you the chance
to ask us anything, and you did — here are your questions, answered!
Sony Xperia X Q&A
donrox
:
"Why didn't you include a battery test? will you update the review and include one?
"
PA
: Our review has been updated with the battery life benchmark. The Xperia X clocked in at 8 hours and 56 minutes, which is a pretty good result! Have in mind that it also takes a long time to recharge - 141 minutes.
Greenman
:
"PhoneArena; I've a genuine question to ask: Do forgive me for being blunt; but does this phone 'suck' like the rest of the Xperia Line-up or is it any better??"
PA
: The Xperia X is a not bad phone at all, but it certainly left us wanting more. Design and performance are good, though the display and the camera disappointed us - Sony has certainly done better before. In general, we feel that the Xperia X is not offering enough value for the money.
Nebula
:
"How much should this phone cost to recommend it over HTC or S7 ? Thanks"
PA
: In its current state, anywhere between $399-$449 would be a way more fitting price for the Xperia X. Still, if the shortcomings of the camera are software-based, and Sony can fix them soon enough, then the entire value proposition ought to be re-calculated. Suddenly, even $500 sounds good enough!
BradyCrack
:
"What makes this smartphone worth getting? Given its price, it must have something special right?"
PA
: Seen in a vacuum, we'd say the smooth system performance and attractive design are two standout reasons for the X. Put in the midsts of dozens of competing devices, well,
nothing
.
Zidhin
:
"Huawei p9 or this..which is better in every aspect..especially cam and battery?"
PA
: Although the Huawei P9 is a bit more expensive ($600-$650), we think it'll give you more bounce to the ounce.
Scarambay
:
"(1) Is the camera really that bad, or it's just that the image quality is good but not on par with the phones like Galaxy S7, LG G5?
(2) Sony has made a big deal of its Predictive Auto Focus. How quick is it really in comparison to the AutoFocus on Galaxy S7/S7 Edge?
(3) I have never seen good words from PhoneArena writers about the camera on Xperia phones, while most of the other reviewers generally regard Xperia phones as excellent shooters. I'm just curious why would there be such huge discrepancy?"
PA:
Hello there, Sacarambay. First of all, the camera is not that bad, just not in the same ballpark as the Galaxy S7 and the G5. There's a lot of leeway for optimization.
Secondly, the Predictive Auto Focus is definitely slower than the one on the Galaxy S7/S7 edge. And finally, we don't think this is factually correct. Sony's devices have good cameras, they are just not as good the best ones out there.


Read more:
goziarabby
:
"Is fingerprint sensor support paypal or web login?can i use it to lock/unlock apps without 3rd party apps? What about camera overheating issue?"
PA
: Our unit is meant for the US market, so it came with no fingerprint scanner aboard. Sorry! As far as your second question is concerned, our unit did not overheat.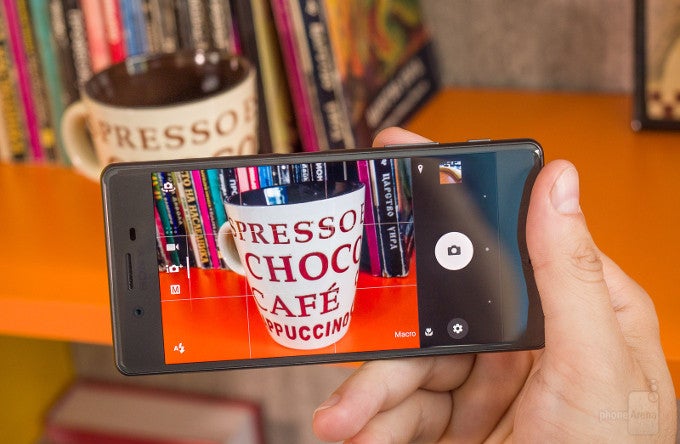 ryq24
: "Did your unit also suffer from over heating?"
XperiaG
: "Do you think that the X series would be as successful as the Z series?"
PA
: It's hard to answer to this one in a few sentences. Our dedicated review comparison between the Xperia X and the Xperia Z5 is on its way. Rest assured that your question will be addressed in it.
shy2papa
:
"Is the battery life better than the Xperia z5 and z5 premium, and what about the sound quality?"
PA
: In our tests, the Xperia X proved to be the superior phone in terms of battery life, surpassing the Xperia Z5 by roughly 10%.
An.Awesome.Guy
: "Does it have RAW support ,in which case a customer may use another app instead of Sony's weak camera software ?"
BobLawblaw
:
"Who do you think will win Euro 2016? I'm betting France..."
PA
: Hey, never underestimate Germany!