Sony LT29i Hayabusa coming June with the new 13MP "stacked" camera sensor, quad-core LT30i pegged for October
65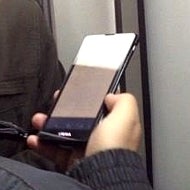 Remember the
LT29i "Hayabusa"
flagship from the
leaked 2012 Sony roadmap
? We were already pegging this one to be the best Sony smartphone for the summer season, when it is expected to land, but now a few more details leaked from a Baidu blog in China, that confirm our initial impressions.
HTC One S
review. The phone is pegged to be
just 7mm thin, yet pack a generous 2200mAh battery
, potentially making it the best phone Sony has created so far.
As can be seen in the leaked picture of the handset's prototype on the right, it is likely going to be all-display at the front, and feature just the on-screen buttons of Android Ice Cream Sandwich for navigation. That's in line with what
we heard about the Hayabusa handset last month
, too.
The rumored Q3 launch for the Sony LT29i Hayabusa is now receiving a more specific release month, as the phone is claimed to be announced in June with this latest leak, and the sales to start in July, as listed in the original Sony roadmap. Forum rumors are that it might eventually be called Xperia GX.
As far as that expensive
Mint I phone
we were wondering about in the leaked 2012 Sony roadmap, the source now says there will be something arriving in October coded as the LT30i, which is to be
Sony's first quad-core handset with an OLED display
, fruit of
its partnership with AUO on 4.3" AMOLEDs
. The future seems pretty bright for Sony this year, even if only the LT29i and LT30i materialize.