Sony Honami first teaser image posted on Sony Mobile's Facebook
35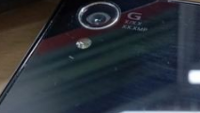 As we draw ever closer to a time whenSony will finally see fit to put us out of our misery and show us theHonami, there's no denying that the hype has reached its peak. Ofcourse, being in a position to benefit handsomely from the buzz, theSony Mobile team has every intention to keep us on our toes. To thatend, a new teaser image of the Honami, hashtagged #bestofSony, hasbeen published on Sony Mobile's Facebook page and on their Twitterhandle simply stating:
"It's the smartphone everyone's been talking about... not long now #bestofSony".
Interestingly enough, a similar-looking teaser image (seen in the gallery below) wasleaked earlier this month, but the device on that one featured only a powerbutton, unlike this one.
Anyway, it doesn't really matterwhether you're a Sony fan or not, nor whether you're excited aboutthe upcoming Sony Honami/Z1,right now. A new flagship release is a new flagship release, and justas simply as that – if quality products are what you're looking for– the more, the better.
Speaking of quality products, there'sno denying that Sony has been hard at work, improving their offerings– a not so easy feat, considering the ruthlessly fiercecompetition. And before you brand us as being anything less thanimpartial – thetech incorporated in the Sony Z Ultra's display, which we expectto be packed in the Honami's, too, hasbeen showcased to be perceptibly improved.
So go ahead and check the latest teaser courtesy of Sony.
source: Sony Mobile