Sony Ericsson will upgrade Xperia X10 after launch
This article contains unofficial information.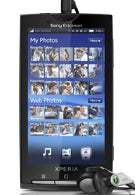 Whoa! Slow down there. Better reread that headline. That's launch with an "a", not lunch with a "u". Besides, Sony Ericsson is planning on sending the Xperia X10 on some overseas missions to gather intelligence before it gets launched in the U.S. For example, by the end of this current quarter, the X10 is expected to be released in Holland for 599 EUROS or the equivalent of $817 U.S. Dollars. And while the handset will be launched with Android 1.6, the Sony Ericsson Product Blog says that the device is upgradeable, and in a long interview on Dutch site Tweakers, the joint venture's Harold deKort answered about 80 questions on the X10 included giving out some hints of a possible upgrade. When asked about an upgrade to 2.0 or
2.1
, he says, "
The upgrade to a higher version will be combined with adding new functionality of the Xperia X10.
Such as we see a new upgrade release of the X10 and the planning of a new release, we currently have no further information." Ok, at least he didn't shoot it down totally. deKort confirmed that the Xperia X10 will be launched as a unitouch device and that it might stay that way. So you pinch-to-zoom fanatics better look elsewhere.

Sony Ericsson Xperia X10 Specifications | Preview

source: Tweakers , SonyEricssonProduct LaunchBlog via Engadget