So, there's no flat screen variant of the Galaxy S8. What do you think about that?
95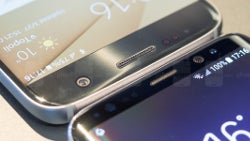 The
Samsung Galaxy S8
and
Galaxy S8+
are out and they are as pretty as expected! Shiny and futuristic, the phones sport edge screens and minimal bezels around them. Yes, we said "phones" in plural — while for the past 3 years, going back to the
Note 4
and
Note Edge
, Samsung has always given us the option to get an "ordinary", flat screen model, or shell out an extra $100 for a dual-curved edge display, the option is now gone.
Unfortunately, this means that you can't go for a "cheaper" version of the new Sammy phones — prices usually start from $750 for the regular S8, while last year's Galaxy S7 had a $650 price-tag. But money aside, fact is that some people just want a flat display — be it for visual purposes, for easier screen protector fitting, for handling purposes, or any mix of those reasons. But, apparently, those people are a minority — at least that's what Samsung's decision with the S8 has us thinking.
What say you, readers? Is the lack of a flat Galaxy S8 a turn-off for you?