So long, handsome! Samsung Galaxy Alpha to be discontinued as the Galaxy A series step in
53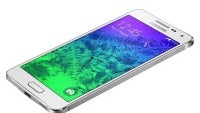 South Korea's ETNews reports that Samsung will discontinue its
Galaxy Alpha
smartphone by early February 2015, "as soon as its inventory of materials is exhausted". The company will reportedly succeed it with the new Galaxy A series of smartphones, which continue the Alpha's peculiar design line, but settle for spec sheets that Samsung finds more favorable for competing in the
increasingly price-aggressive smartphone market
.
Essentially, the Galaxy A phones are the nice-looking, reasonably powerful, and affordable mid-rangers that have been missing from the company's product lineup. So far, Samsung's non-flagship mobile offerings have had a lot of corners cut in their spec sheets and build quality. In 2014, they found themselves unable to compete with stronger, cheaper products from Chinese competitors, which forced Samsung into rethinking its approach. If the rumors about it are true, then the Galaxy Alpha was merely a stepping stone towards reinventing its non-flagship smartphones.
Analysts and insiders commend Samsung's decision. The first Galaxy A phone that will reach the South Korea market, the Galaxy A5, "has better price competitiveness based on specifications than its predecessors, and its design is thought to be better than that of the Galaxy Alpha" according to a person from the industry. At $361 (KRW 400,000) the A5 will be positioned as "a premium model in the mid to low-priced product line", which Chang Jung-hyeok, VP of Atlas Research, finds "meaningful".
The
Galaxy A5
has an attractive metal unibody design, a 5-inch 720p display, a quad-core Snapdragon 410 processor, 2GB of RAM, a 13MP main camera, a 5MP front cam, and a 2300mAh battery. The
Galaxy A3
, which is the low-end offering in the series, features the same premium styling, but the display size, RAM memory, camera sensor, and battery capacity have been lowered to reduce the price. Meanwhile, the
Galaxy A7
, which is supposed to crown the A-series, has been largely unheard of as Samsung is yet to begin selling it, or even announce it. Currently, the Galaxy A5 is on sale in China and Russia.