Snapchat's rebuilt Android app has better performance and improves your favorite features
3
Earlier this month, we told you that
Snapchat had started rolling out its revamped Android app
. On Tuesday,
Snapchat officially announced
that the new faster version of Snapchat became available
in the Google Play Store
for all Android users running 4.4 and higher at the end of the first quarter. The app was rebuilt from the bottom up and includes updates to Lenses (which are the overlays that you can put over a selfie turning you into a floppy-eared dog, a sunglass-sporting motorcycle cop and much more), Stories, taking Snaps and more.
Snapchat parent Snap reported
its first-quarter results yesterday, announcing that while the number of Daily Active Users had declined from 191 million to 190 million from last year's first three months, on a sequential basis DAU rose 2.7% from the 186 million daily users Snapchat had during the fourth quarter of 2018. The company also reported that its new Android app is 25% smaller and opens 20% faster. It was built using a modular system that allows the company to quickly add new innovations. On lower spec'd Android phones, within the first week of upgrading the new Snapchat app, 6% more users sent a Snap.
Clicking on the Discover icon on the bottom right of the Snapchat screen will allow you to see stories from friends and media content from verified celebrities and Snapchat's media partners. Snap's SEC filing noted that during the first quarter, nearly half of the app's Discover viewers ended up watching content from this feature every single day. 50 new shows and publisher stories were launched in the quarter alone, and the number of media partners has doubled over the last six months.
Financially, revenue rose 39% year-over-year in the first quarter to $320 million. The company's net loss improved from $385 million in Q1 2018 to $310 million in Q1 2019. For the current three month period that ends in June, Snap expects revenues to rise 28% to 37%. That would result in gross of $335 million to $360 million.
"We've spent over a year rebuilding our Android app from the ground up. For our Android community, that means improvements across the app — including updates to Lenses, Stories, taking Snaps, and more! The new Snapchat for Android is just one of many things we're working on to make sure Snapchat's one of the fastest and most fun ways to stay in touch."-Snapchat
Snap's shares closed regular New York Stock Exchange trading at $11.99, up 47 cents or 4.1%. In after-hours trading, the shares tacked on an additional 30 cents or 2.5% to $12.29.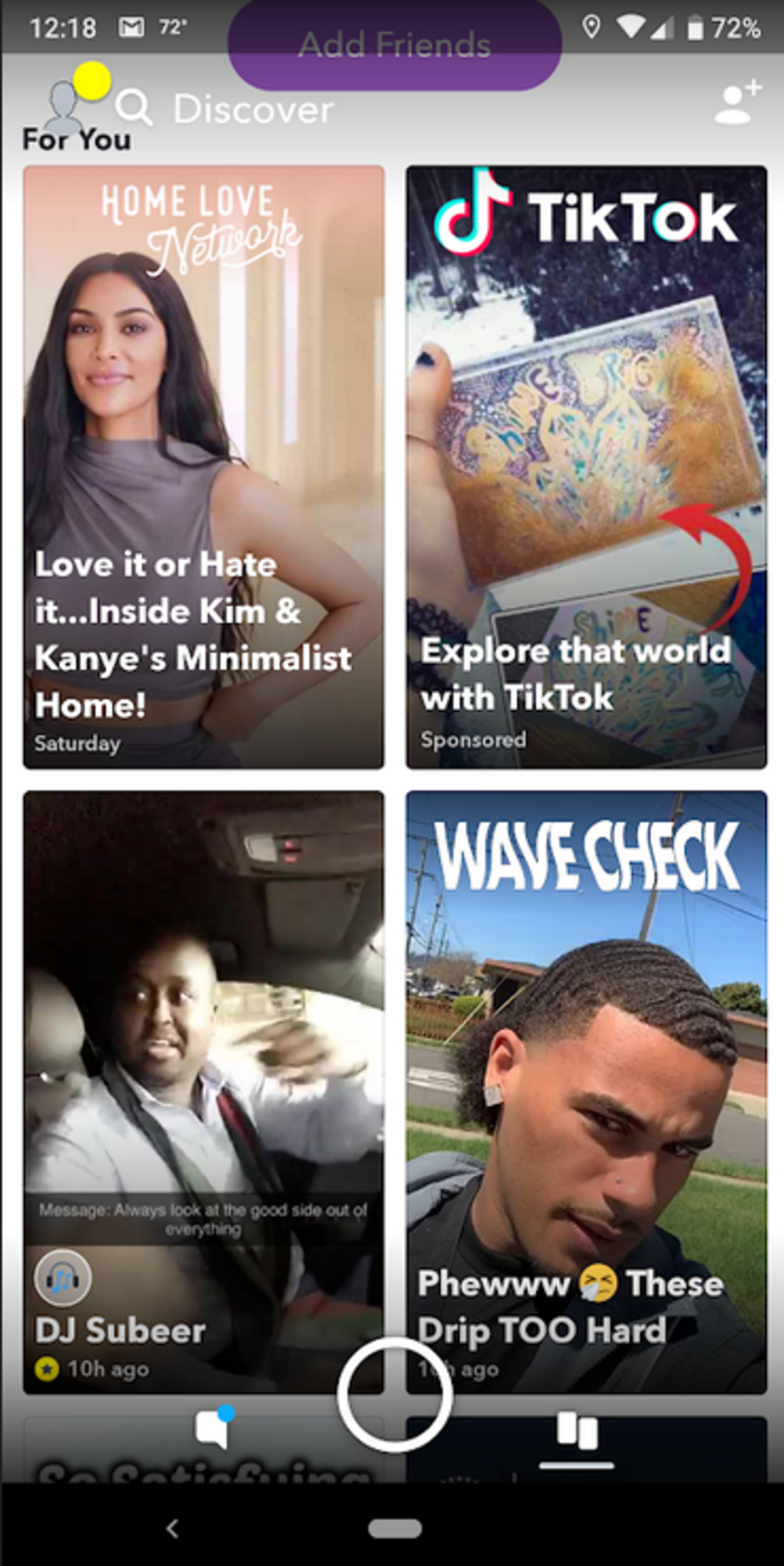 The Discover feature on Snapchat shows content from celebrities and Snap's media partners