Smartphones still less than a third of all phones
1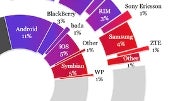 Both Google and Microsoft keep saying that the smartphone competition is far from over, and there will be room for many more twists and turns, since the pie will keep growing. Microsoft in particular is optimistic about its Nokia undertaking making Windows Phone the third smartphone ecosystem after iOS and Android, and
carriers seem to agree
.
The chart below from VisionMobile seems to confirm what the wise heads at these companies are saying - smartphone penetration was still just 27% worldwide in the first half of this year. Granted, by this time next year the ratio will probably be more than a half, and in 2013 the feature phone might be a clear minority, but that's not where we're at now.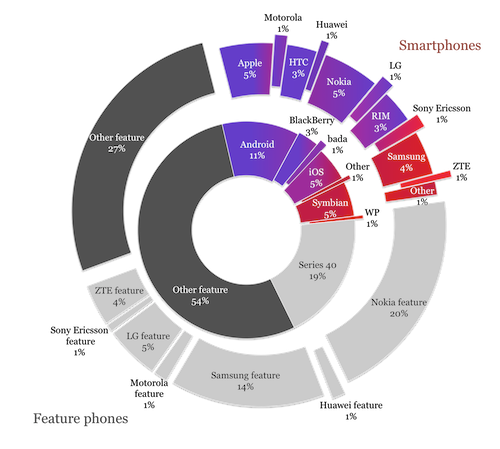 As the graph shows, from the top manufacturers Nokia stands to gain or lose the most from the transition, since it now sells quite a big chunk of featurephones. If it manages to upgrade their "features", and/or carry out a smooth conversion for some of those with affordable smartphones running Windows Phone or Symbian, it will continue to still sell devices by the boatload, but also pump up its smartphone market share.
Also, let's not forget the threat from Huawei, ZTE and the hundreds of known and unknown phone makers in places like Greater China which are turning to Android in droves, and can challenge the incumbents in densely-populated Asia in surprising ways.
source:
VisionMobile