Smartphone infographic is out of this world
31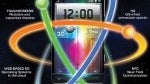 How far we've come
A new infographic from Dialaphone shows the evolution of the smartphone starting with 1993's IBM Simon and working down to the
Apple iPhone
and the
Samsung Galaxy S III
. It also lists some of the newer features that smartphone users take for granted these days like 4G connection speeds, touchscreens and NFC. Below that is a clever timeline detailing the important technological advances made in music, communications and storage.
Using technology as a whole planet, the timeline shows the changes in those three categories as moons circulating the planet. In music, we go from vinyl records in the 1970's to MP3 players out just after the turn of the century, to mobile apps with cassette tapes and CDs in between. Communications starts with paper mail (snail mail to you geeks) and progresses to mobile email, instant messaging and social networks in the 21st Century. Storage starts with floppy discs and runs up to today's cloud based storage.
Near the bottom of the infograph is a section about the Global Impact of Smartphones which gives us some interesting trivia. For example, 80% of smartphone users in the states don't leave home without their smartphone. The average U.S. smartphone owner
has 23 apps installed
on his/her device. In the U.K., 33% of smartphone owners are between 25-34 and 80% of the region's smartphone users regularly visit social networks like Twitter or Facebook. In Germany, 90% of smartphone users use their handset for entertainment. In Spain, 58% use the search function on their smartphone daily while in the United Arab Emirates, 84% use their smartphone to watch television and video.
Next, a graph breaks down OS use by region. No surprises here as Android leads in most countries (U.S., Japan, China and Australia) with iOS claiming the U.K., Sweden and Germany. This is followed by the advancements we have made in network speeds, evolving from 1G to 4G. And the bottom of the graph lists some of today's processors and the devices that run on them. For example, the Samsung Exynos is used on the
Samsung GALAXY Note
and the Samsung Galaxy S III. The Qualcomm Snapdragon powers the
HTC One S
, the TI OMAP powers the
Huawei Ascend P1
, the NVIDIA Tegra 3 is under the hood of the
HTC One X
(international edition) and the Apple A Series can be found on the
Apple iPhone 4S
(and the
Apple iPhone 5
, of course).
One look at the infograph shows how far we've come. Considering the achievements made in a short time, can you imagine where we will be just 5 years from now?
source:
Dialaphone
via
IntoMobile