Shocking: Chinese teenager sells his kidney for an iPad 2
84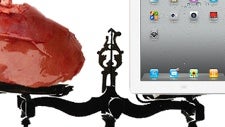 17-year-old Chinese boy Zheng liked the iPad just as pretty much every tech geek out there. But being seventeen means you don't have your own money. Combine this with a mind-boggling local advertisement offering cash to anyone willing to sacrifice his kidney and become an organ donor and you can probably guess what happens next. The
teenager has sacrificed one of his kidneys
for the humble 20,000 Chinese yuan, an equivalent of some $3,000…
to buy the newest iPad
:
"
I wanted to buy an iPad 2, but I didn't have the money
," Zheng shared with local Shenzhen TV. "When I surfed the internet I found an advert posted online by agent saying they were able to pay RMB20,000 to buy a kidney." Some negotiations took place afterwards disregarding the fact that Zheng was not even of full legal age. The kid traveled north and the kidney was subsequently removed in the city of Chenzhou.
After undergoing surgery,
Zheng suffered complications
and couldn't keep the secret from his mother: "When he came back, he had a laptop and a new Apple handset," his mother, Miss Liu, told the police while showing off the red scar left at the place of the surgery, "I wanted to know how he had got so much money and he finally confessed that he had sold one of his kidneys."
Trying to contact the people responsible for the surgery has proven impossible as the phone numbers don't answer calls, while the hospital denies any knowledge of the surgery. At the same time, though, the medical establishment did acknowledge that it has contracted its urology department to a businessman.
"This teenager's stupid behaviour is a manifestation of his radically materialistic values," futile comments rushed from everywhere after the shocking incident. Just recently, we reported about a nearly-religious brain reaction in some people to brand names including Apple, but this goes far beyond those borders.
source:
Telegraph
Recommended Stories