Chinese court starts looking at "kidney sold for iPad case"
31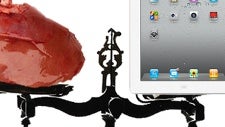 Just a year ago, a shocking incident happened - a
Chinese 17-year old boy craved the iPad 2 so much he sold his kidney for one
and a couple more Apple gadgets. The teen took this mind-boggling decision on his own after accused He Wei asked another defendant Yin Shin to look for donors in online chat rooms.
That's how the 17-year-old at the time Wang learned about the possibility to basically trade his kidney for an iPad a couple hundred dollars. From there on, the dice rolled and the accused He Wei asked another man to lease an operating room where Yunan province hospital doctor Song Zhongyu performed the grim surgery and transplanted the kidney into a recipient in April 2011.
Everything could have gone unnoticed for a while, but on the following week the teen suffered renal failure and when asked by his mother confessed what he'd done.
The accused He Wei was a gambler in debt and was looking for a way to give the money back. The monstrous kidney operation earned Su, the man who leased the operating room got 60,000 yuan, Song, the surgeon, 52,000 yuan, Tang, the middle-man got 10,000 yuan and Yin, the chat room trawler, got 3,000 yuan. Wang, the teen who suffered the most from his ridiculous decision, was given 22,000 yuan after leaving the hospital.
The prosecutors are holding the nine conspirators criminally liable for "intentional injury," and require a compensation of 2.2 million yuan or $356,849. The court is now holding the hearings.
source:
Xinhua
via
TheVerge
Recommended Stories