Sharp showcases a 4.1-inch IGZO LCD display with a crazy pixel density
22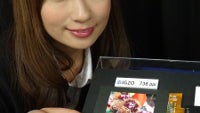 With smartphones' displays already boldly dwelling in the Quad HD zone, it is pretty natural to expect the upcoming years to treat us to some absurdly pixel-rich displays. At the moment, the
Samsung Galaxy S5 LTE-A
sits on the top of the
pixel density mountain with the respectable 576ppi
. In the meantime, tablets have been
somewhat trailing behind
. We've already heard rumors that Sharp might be working on a
5.5-inch 4K IGZO LCD
display with a resolution of 2160 x 4096 pixels, which would results in a ludicrous pixel density of 842ppi.
While a lot of time will pass until we see the first representatives of this pixel-crazy era, Sharp demonstrated its recent accomplishment - a 4.1-inch Quad HD IGZO LCD display with a resolution of 1600 x 2560 pixels, which means that its pixel density is no more or less than 736ppi, way higher than any other Quad HD display we've seen until now. Sharp says that this display boasts the same pixel density as a 6-inch display with a resolution of 2160 x 3840 pixels, which is just a shy lower than the rumored 5.5-inch 4K screen that the company is allegedly working on.
According to Sharp, it will begin manufacturing the demonstrated displays sometime in 2016, but the first design samples will be available for manufacturers sometime in 2015. We can only imagine where this display arms race will lead us to.