Sharp reportedly working on a 4K (4096 x 2160) resolution smartphone display panel
68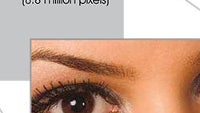 One of the recent pop-trends amongst smartphone manufacturers is the strive towards higher resolution screens and higher pixel densities. Just 3 years ago, flagships were topping out at 720p (1280 x 720) and sporting PPI densities well above 300, though, once the larger-screen trend gained momentum, phone suppliers started looking for ways to bump the resolutions further, in order to maintain the high PPI count. In the past couple of years, we've seen a jump from HD (1280 x 720) to FHD (1920 x 1080), to this year's
QHD
(2560 x 1440).
Now, while half the techie community is busy scratching their heads, wondering whether such an overkill pixel density is even worth having on a ~5" screen, especially at the expense of precious battery life, OEMs are slowly, but surely, climbing aboard the QHD bandwagon, if they haven't already. Even Sony, which a couple of months ago said it
doesn't think QHD is worth it
even on an 8-inch screen, has been rumored to be planning to equip its
next Xperia flagship
with a 1440p panel.
Now, Japan-based media has pulled a whisper out of the rumor mill, claiming that Sharp is currently working on the next generation of smartphone LCD panels – the 4K (4096 x 2160) screen. The "sources" said that Sharp felt pressured to develop the pixel-dense screen, due to demand for crazy-high resolutions coming from China. The tech will be ready for mass production some time in 2016 and will be used in 5- to 6-inched displays. So, a 5.5" screen, loaded with a 4K resolution will result in a pixel density of 842 PPI!
The report also claims that Sharp is working on improving the quality of current-gen LTPS LCD panels, by employing an in-house developed method, using polycrystalline silicon (high purity, multicrystalline form of silicon), fused with the glass, which should produce a more transparent, and thus – more vibrant, dispay panel.
Lastly, the rumor claims that Sharp currently has a 600ppi phone display panel ready, which should be hitting markets in China at the start of the next fiscal year.
Well, Sharp does seem to be pretty display-oriented as of late, with the launch of the bezelless
Sharp AQUOS Crystal
, so at least some of these rumors are likely to be true.
How does a 2160p screen sound to you? And what do you think its marketing name would be – Octa HD?
Source:
feng.com
(
translated
) via
GSMDome