Share your location on a real time map with Facebook Messenger's Live Location
2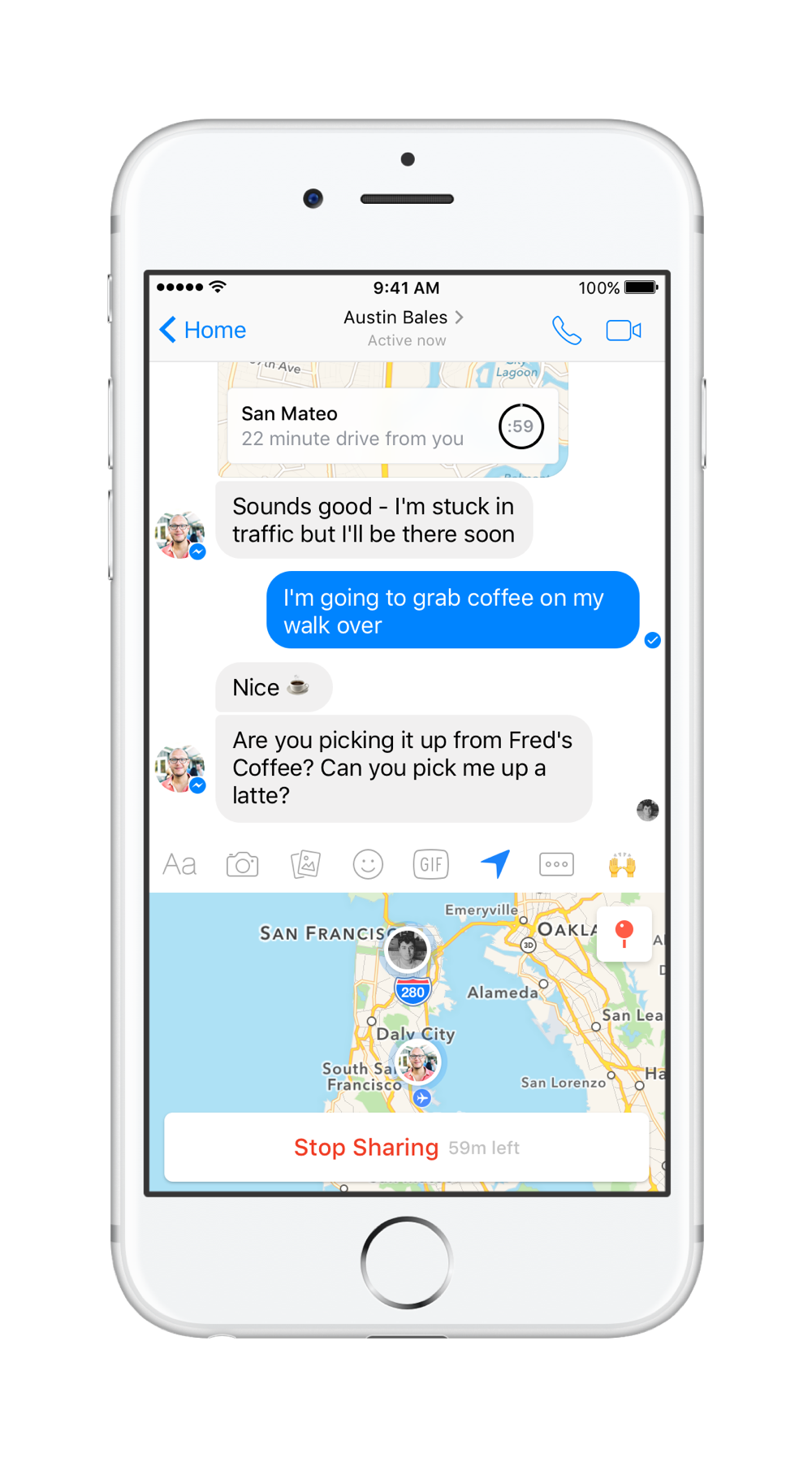 Live Location will allow you to share your position on a map in real time, for up to 60 minutes
Starting today, Facebook Messenger will include a new feature called
Live Location
which tracks your position in real time, and displays it on a map which can be shared during a one-on-one or a group chat. This allows you to show someone how close you are to a pre-arranged meeting place. You can be tracked for as long as one hour.
The new feature will be available for both iOS and Android users. On both platforms, you can stop sharing at anytime, even before the hour is up. On iOS, you can open Live Location by tapping the Location icon, or by tapping the More icon and then selecting Location. Tap the blue bar to start sharing your location. On Android, tap the Location icon, or tap the More icon and then click on Location. Similar to the iOS version, tap the blue bar to start sharing your location.
Both iOS and Android versions countdown your 60 minutes thanks to a clock in the lower right of the screen. On iOS, users can see how long it will take for them to get to other peoples' locations by car.
"We've been testing this for a little while, and people tell us that Live Location is helpful when trying to coordinate with friends, telling people how close you are when you're on your way to an appointment, or even sharing where you are with your roommate when you're on your way home at night. You can share your Live Location with a group of friends in Messenger or just with one person — it's up to you!"-Facebook
If you're concerned about how this will affect your battery life, Facebook says that the feature consumes a standard amount of power and won't quickly zap all of the energy inside your phone's juicer.
source:
Facebook
via
TechCrunch