Screenshot of Office 2013 to come bundled with Windows RT tablets emerges
7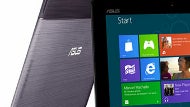 Rumors are that
Microsoft is charging Windows RT tablet OEMs a pretty healthy $80-$95 licence
for a brand new OS experience without that many apps behind it, but it has an ace up its sleeve because Win 8 tablets running on ARM processors will eventually come bundled with full-fledged Word, Excel and PowerPoint apps.
Straight from Microsoft's TechEd 2012 conference now comes a screenshot the folks from Redmond showed, which is what the Office 2013 edition for tablets is looking like.
Gone or hidden are the numerous perplexing options, and the interface seems pretty straightforward, optimized for all the meaty digits that might be thrown at it. In the Office 15 Technical Preview there is the possibility to permanently "pin" the Ribbon to stay expanded, which in Office 2013 RT for tablets seems to be missing or tucked away, perhaps with consideration of the lower resolutions.
There is also a different New Worksheet icon and swapped color hue for the scrollbar. The whole set is still a work in progress, but we are curious how Microsoft has implemented one of its bestsellers - Office - for the Windows RT tablets reality.