Say cheese: Polaroid's rumored Android camera is expected to feature interchangeable lenses
11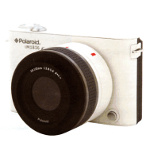 The history of Polaroid is a long and interesting one. Company founder Edward Land was the Steve Jobs of his day, a cycle that was completed when Jobs listed Land as one of his heroes. Polaroid even
sued rival Kodak
over the latter's introduction of instant cameras, and won $900 million. But the photography business has changed and digital photography made Polaroid's camera obsolete, to be remembered in song lyrics and museums. The name, though, still has value and with the advent of the Android powered camera, Polaroid appears ready to throw its hat into the ring.
Polaroid IM1836
. This is said to be a camera powered by Android 4.0, carrying an 18.1MP sensor, a 3.5 inch touchscreen, pop-up flash and Wi-Fi connectivity. An HDMI port is included although there is no word about a cellular data connection, RAM, or a CPU.
With users of the
Samsung Galaxy Camera
complaining that the device costs way too much for point-and-click quality pictures, the fact that the Polaroid IM1836 offers interchangeable lens reveals a focus (sorry!) on
quality photography and imaging
that is just not there on Samsung and Nikon's Android offerings. And speaking of Nikon, the Polaroid device is said to resemble the Nikon 1 J2 leading to talk that the IM836 might use Nikon's lens ecosystem.
There is no word on when we might see Polaroid introduce this camera, but with CES 2013 around the corner, it would be the perfect opportunity to make an announcement.
source:
PhotoRumors
,
PetaPixel
via
AndroidCentral