Sanjay Jha confirms Tegra 2 Motorola handset?
4

Recently, we
reported
that all signs are pointing toward a release of a Tegra 2 powered Motorola handset possibly before the end of the year. And who better to confirm this than the CEO of Motorola Mobility, Sanjay Jha. One of the guys over at Android and Me had the luck to find himself sitting next to Jha following Motorola's press conference last night.
In response to a question about the potential release date of the so-called Motorola DROID T2, the CEO said that there was a chance that Motorola would release one more model before Christmas, which would push the Tegra 2 powered phone back to Q1 of 2011. But in answering the question about the timing of the device, Jha basically confirmed that such a loaded phone does exist and is expected to be in the hands of the public fairly soon. If you are planning on upgrading your current Verizon handset but are not in a rush, this would be the model to wait for.
Motorola DROID T2 Preliminary Specifications
source:
AndroidandMe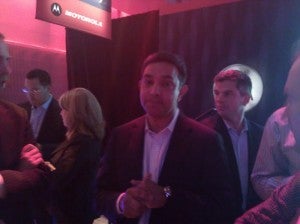 CEO Sanjay Jha at last night's press event