Samsung went from almost no mobile income to more than Google's entire operation in two years
30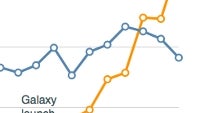 Industry analyst Horace Dediu from Asymco came with an interesting graphical comparison yesterday outlining the ascent of Samsung to its current state, where it
splits 99% of the mobile profits with Apple
, leaving HTC a one-percenter, but not in the rich sense.
Not only it cannibalized all other phone makers profits, but it is has now made more money from phones and tablets than Google's entire operation for three straight quarters. Mr Dediu concludes that this stratospheric ascent of the Koreans is entirely due to their bet on Android, coupled with vertical integration synergies, and we can't agree more with that. Imagine, for instance, how much would a
Lumia 920
with Android sell in comparison with the current Windows Phone 8 unit, given the unique OIS technology inside.
Have a look at a few charts that pretty much encompass everything that has been happening in the mobile industry since the iPhone introduction, up to the last quarter we have sales and operating income numbers from.