Samsung posts record operating profit of $7.4 billion in Q3, will set aside a billion to pay Apple
20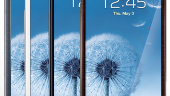 Samsung posted an outstanding Q3 report, recording his highest operating profit so far of $7.4 billion, a 91% increase year-on-year. For comparison,
Apple's number was $8.2 billion
, and the two companies have never been that close.
Of course, the last quarter of Apple's fiscal year is not its strongest one, as usually a new iPhone appears at the end of it, and Samsung releases its flagship a few months prior, but it is still a remarkable achievement on Samsung's part.
The Koreans sold
20 million Galaxy S III units alone
, against 26.9 iPhones of all types for Apple. Overall IDC estimates are that Samsung has sold 56.3 million smartphones in the quarter, widening the lead before Apple's 15%, with 31.3% of the global smartphone market, while Nokia has fallen out of the top 5.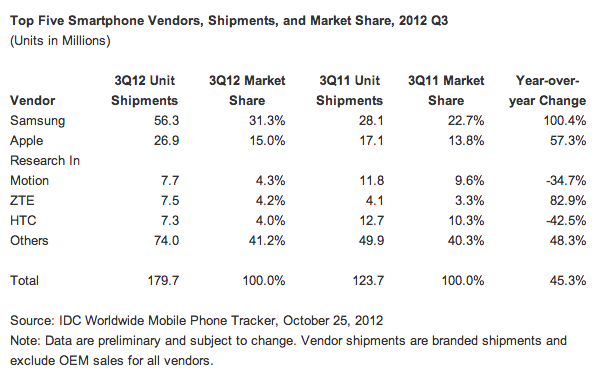 The profits from the telecom division alone, which houses its phone and tablet sales, were $5.12 billion, and represent 69% of the company's take-home pay, that's how important it mobile business is. If you spread the profit margin across the division, however, it is close to 19%, next to Apple's 40%+ margins, which is where the difference in profits comes from, despite double the units sold.
The company said it will set aside $1 billion if it loses the appeal in the US lawsuit against Apple this quarter, to pay the damages that the patent infringement jury decided it is liable for. "
The amount of provisioning will be fixed according to U.S. court ruling, and the costs will be set aside this quarter only if there's a ruling within the current quarter,
" said Robert Yi, head of Samsung investor relations, on a conference call with analysts. With north of $7 billion made last quarter alone, we are not very worried this will rock its boat.
Samsung Electronics Announces Third Quarter 2012 Earnings Results
on Oct 26, 2012

Posts record operating profit of 8.12 trillion won on consolidated revenues of 52.18 trillion won

SEOUL, Korea – October 26, 2012 – Samsung Electronics Co., Ltd. today announced revenues of 52.18 trillion Korean won on a consolidated basis for the third quarter ended September 30, 2012, a 26-percent increase year-on-year.

For the quarter, the company's consolidated operating profit reached an all-time high of 8.12 trillion won, representing a 91-percent increase year-on-year. Consolidated net profit for the July-September period was 6.56 trillion won.

In its earnings guidance disclosed on October 5, Samsung estimated third quarter consolidated revenues would reach approximately 52 trillion won with consolidated operating profit of approximately 8.1 trillion won.

Samsung's solid performance is mainly attributed to increased sales of handheld phones and stronger demand for display panels. The Mobile Communications Business posted 26.25 trillion won in revenue for the quarter, accounting for more than half of Samsung's total revenue. As for the display panel segment, increased shipments of Organic Light-Emitting Diode (OLED) and Liquid Crystal Display panels used in tablets and smartphones, as well as TVs drove up profitability.

Despite global economic uncertainties, Samsung's end-product and components business units saw sales climb compared with the same quarter last year. Digital Media & Communications – comprising the Consumer Electronics and IT & Mobile Communications business sectors – accounted for 41.90 trillion won in sales, up 41 percent year-on-year.

For Device Solutions, operating profits reached 2.29 trillion won on revenue of 17.40 trillion won. The Display Panel segment outperformed the Semiconductor Business, in terms of on-year revenue growth

On the currency market front, the depreciation of the euro and local currencies in emerging markets chipped away Samsung's bottom line by 570 billion won for the quarter.

"The business environment remained difficult with global economic uncertainties persisting amid the fiscal concerns in the US and Europe. However, we continued to break our quarterly profit records," said Robert Yi, Senior Vice President and Head of Investor Relations.

Mr. Yi said he expects market competition to intensify but "we will do our best to sustain our earnings momentum throughout the fourth quarter by implementing strategies we have developed for our businesses."

Looking ahead, for the remaining quarter, year-end seasonality will push up demand for mobile devices including tablet PCs, as new products make their way into markets with more competitive pricing. Year-end holiday promotions, robust demand in emerging markets and China's New Year holiday effect are expected to shore up global demand for IT products. Demand for PC DRAM will be weak due to oversupply, and sales of digital appliances will slow down due to unfavorable market conditions in developed economies.

Capex 18.5 Trillion Won To Date

Capital expenditure in the third quarter totaled 4.5 trillion won; 2.1 trillion won was invested in the Semiconductor Business, while 1.1 trillion won went to strengthening the Display Panel segment. All told, the total capex for the first nine months of this year amounted to 18.5 trillion won or 73 percent of the annual capex budget of 25 trillion won planned for 2012.

High Value-Added Chips Remain Profitable

Samsung's Semiconductor segment – including the Memory and System LSI businesses – posted an operating profit of 1.15 trillion won on revenue of 8.72 trillion won for the quarter, which equates to an 8-percent year-on-year drop in sales.

Weak demand compounded by an oversupply of PC DRAM chips in the global market pulled down Samsung's sales of memory chips, which slid to 5.22 trillion won from 5.5 trillion won recorded the previous year.

Samsung's concentration on high value-added products such as server and mobile DRAM products, a more competitive mix of NAND products including Solid State Drives (SSDs) for notebook PCs and Embedded Multimedia Cards (eMMC), and logic chips softened wider losses.

For the October-December quarter, demand for PC DRAM is expected to stay weak, but a flurry of new mobile devices hitting the market will prop up sales of application processors (AP) and image sensors that power smartphones and tablet PCs. Orders for mobile DRAMs are forecast to be high.

We anticipate global demand for PC DRAM to remain stagnant, but seasonal growth of value-added chips will continue.

Panel Profit Driven by Demand for TV and Mobile Devices

The Display Panel segment achieved an operating profit of 1.09 trillion won on revenue of 8.46 trillion won. This represented a 19-percent increase in year-on-year sales for the quarter and a swing into profitability compared with the same period last year.

The overall panel market exhibited quarter-on-quarter growth with demand rising 2 percent on the back of new tablet products and emerging market growth, despite delayed demand recovery in developed markets. Shipments of TV panels enjoyed a steady 9-percent increase compared with the second quarter as manufacturers prepared for the year-end peak season, although sales of panels for notebook PCs and monitors remained weak.

Samsung saw strong growth momentum in the OLED panel segment due to demand for high-end smartphones. Sales of high value-added products, such as LED panels for TVs and LCD panels for tablets, continued to rise. Overall, Samsung's third quarter TV panel shipments saw year-on-year growth in the mid 10-percent range.

Increased demand for TV panels, buoyed by year-end seasonality and the Chinese New Year holidays, is expected in the fourth quarter while the effect of an energy saving subsidy in China is also forecast to lift sales of large-size LED TV panels. Meanwhile, forthcoming launches of new tablet devices will help maintain positive growth for tablet displays and the strong demand for OLED smartphone panels is set to continue into the next quarter.

Bellwether Mobile Business

The IT & Mobile Communications division, comprising Mobile Communications, Telecommunication Systems, IT Solutions and Digital Imaging, ended the third quarter with operating profits of 5.63 trillion won on 29.92 trillion won in revenue.

Operating profits for the division saw 132 percent year-on-year growth. The mobile unit alone was responsible for 26.25 trillion won in revenue, resulting in an 82-percent spurt in growth compared with the same quarter a year ago.

The global market for smartphones increased in the low 10-percent range on-quarter, while that of feature phones saw growth of around 10 percent on-quarter.

Samsung's flagship GALAXY S III smartphone, along with diverse smart device offerings which encompass high- to low-end products, have been the key drivers in raising profit margins. Improvements in the product mix also led to a more competitive average selling price (ASP).

Also in the third quarter, orders for GALAXY Tab variants were strong, as well as the GALAXY Note 10.1, which redefined functionality through its S Pen stylus and split screen feature.

Sales of Long Term Evolution (LTE) wireless broadband technology equipment picked up in the third quarter but tougher price competition has dampened profit margins.

In the fourth quarter, the smartphone market is expected to continue its growth momentum with increased demand, especially in emerging markets. Samsung plans to further cement its leadership in the smartphone market with premium products, including GALAXY S III, and by ramping up sales of GALAXY Note II.

Premium TV Strategy Ensures Stability amid Strong Price Competition

The Consumer Electronics division – encompassing the Visual Display and Digital Appliances businesses – posted revenue of 11.60 trillion won for the third quarter. The operating profit of 430 billion won amounted to an increase of 38 percent compared with the corresponding period last year but was down on the previous quarter.

Due to slowing TV demand during the summer vacation season and economic uncertainty in developed markets, price competition among manufacturers intensified. To deal with these conditions, Samsung maintained profitability by expanding sales of both premium and region-specific LED TV models in developed and emerging markets, respectively.

With peak season demand for TV products in the fourth quarter expected to stimulate on-quarter growth in the mid 20-percent range, the proportion of LED TV sales is also likely to expand. Although competition will intensify, Samsung will continue to focus on improving profitability by increasing its portions of premium products such as large-sized TVs of over 60 inches, strengthening its Smart TV leadership with expanded content service offerings, and growing its sales of localized LED TV models.

For the Digital Appliances Business, sluggish demand in developed markets and weak seasonality for air conditioners resulted in an earnings decline for the quarter. Looking ahead, the company is targeting sales growth in emerging markets with region-specific products and improved profitability in developed markets through high value-added products.