Samsung announces energy-saving Green LCD display, Youm flexible OLED panels at CES
26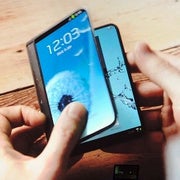 Ever since we first saw those flexible OLED displays by Samsung we've been wondering when we might see them used in an actual product. As in a handheld device one can actually buy and use. Well, perhaps those days are nearing as Samsung just showed off its bendy panels during its CES keynote. The potential of the company's
Youm flexible panels
, as they are called, was demonstrated both in conceptual videos and on a prototype device.
One of the possible uses for a flexible display panel is on a tablet that can be folded in half, thus becoming a smartphone that one can fit in their pocket. Another way to take advantage of this technology is to have a smartphone with a screen extending to the sides where notifications can be displayed even when the handset is lying down on a flat surface. Of course, these are merely possibilities rather than practical real-world applications of the Youm flexible screens. But since we know that this innovative tech is almost ready for prime time, it will be interesting to see what kind of smartphones and tablets Samsung and other OEMs might implement bendable screens in.
In addition to all this, Samsung made the announcement of another display technology it is currently working on. It is called
Green LCD
and it has been developed with power efficiency in use. According to Samsung, the new tech requires 25% less energy to operate, although what kind of displays the Green LCD is being compared to isn't clear. Samsung hinted that we might one day see a 10.1-inch Green LCD screen in use on a mobile device.
source: Samsung; photos courtesy of Engadget