Samsung may be ready to mass produce curved batteries
9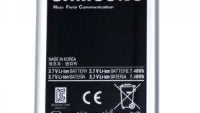 LG already has the claim as being the first manufacturer to market with a
curved battery
, which will be found in the
LG G Flex
; but, that doesn't mean it will be the only manufacturer or device to feature a curved battery. Samsung has the
Galaxy Round
with its curved screen, but it doesn't use a curved battery. However, it sounds like future curved Samsung smartphones may come with curved batteries.
A new report from Korea is saying that Samsung is almost ready to begin mass production on both curved batteries and "warped batteries". The president of Samsung SDI Sang Jin Park confirmed the news to reporters yesterday. Samsung SDI is a component division of Samsung that began as the display manufacturing center, and has since expanded into batteries.
Samsung will be making curved batteries for itself, but in all likelihood it will also be supplying curved batteries to other companies as well. The main benefit of a curved battery is to reduce the unused space in the chassis of a curved display device, and therefore maximize battery life.