Samsung tipped prepping a 6" 4K AMOLED display with 700+ppi for next August, just in time for the Note 5
99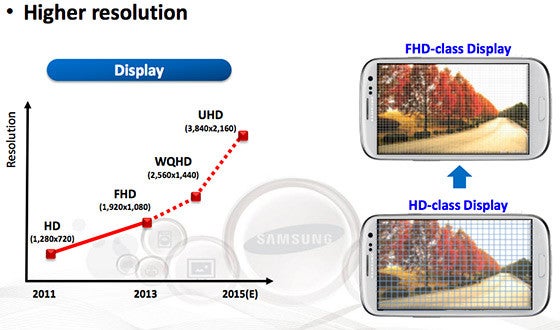 Samsung's mobile display roadmap for 2015 includes Ultra HD resolution panels
Rejoice, 4K lovers, as that's the resolution you might be getting with the next edition of Samsung's Galaxy Note series. We got tipped that Samsung will start mass-producing a 5.9" Ultra HD Super AMOLED display with 700+ppi next August, which puts manufacturing plans just in the timeframe for the Note 5 release, if everything goes according to traditions.
Granted, it is just a uncorroborated tip from one source, but Samsung itself confirmed in its
Analyst Days presentation slides last year
that it has UHD 2160x3840 pixels AMOLED displays for mobile in the works for 2015. Also, at the Semiconductor and Display Technology Roadmap workshop in January,
Samsung presenters hinted again at higher-resolution UHD smartphone displays
in the pipeline. These resolutions, however, were mentioned then together with the "
diamond pixel
" term, which is a fancy way to say a non-standard pixel matrix arrangement, that is closer to PenTile, than the standard RGB stripe matrix. In any case, at 700+ ppi, nobody would notice the individual pixels anyway, so we can't wait to see what Samsung is prepping for us in future phones.
Our own calculations return 746ppi for a 5.9" panel with 2160 x 3840 pixels of UHD resolution, so there you have it - production timeframe in August means it will be ready to go into an eventual Note 5, which should be announced at the IFA expo in September 2015. As for the rest of the specs, we surely hope that the screen-to-phone ratio will be improved, as using a larger display would make the next Note even bigger than it is now. We can also reasonably expect a
Snapdragon 810
chipset, which will be ready for prime time then, and a higher resolution camera with optical image stabilisation. The rest we will leave for the rumor mill to fill in, but we have no doubts in Samsung's abilities to produce a monster Note phablet for next year, too.
Thanks for the tip!