"Diamond pixels:" here is a close-up of the Samsung Galaxy S4's display
75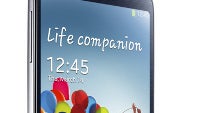 The Samsung Galaxy S4 has one of the best displays out there, confirmed after rigorous
testing of its 5-inch Super AMOLED panel
and comparison against the class-leading well-calibrated 4-inch LCD on the Apple iPhone 5.
The S4 features a 5-inch 1080 x 1920 pixel screen, extremely sharp and vivid. But it is also just Super AMOLED and not a Super AMOLED Plus. What this means is it uses a PenTile matrix arrangement with less subpixels than the traditional RGB one. What went a bit under our radar is the actual arrangement of the pixel.
It's something Samsung refers to as "diamond pixels" and a recent DisplayMate study reveals the actual arrangement in detailed pictures of the display under a microscope.
What's interesting about it is the different size of the sub-pixels. Blue is the largest one since it has the lowest efficiency and in contrast green is the smallest one.
Here is DisplayMate expert's comment on this type of arrangement:
The alternating Red and Blue sub-pixel PenTile arrangement discussed above leads to a 45 degree diagonal symmetry in the sub-pixel layout. Then, in order to maximize the sub-pixel packing and achieve the highest possible PPI, that leads to diamond rather than square or stripe shaped Red and Blue sub-pixels. But not for the Green sub-pixels, which are oval shaped because they are squeezed between two much larger and different sized Red and Blue sub-pixels. It's display art…
source:
DisplayMate