Benchmark pass suggests that the 64-bit, octa-core Snapdragon 810 has been put into testing
65

You've probably always suspected as much, but manufacturing quality processors, especially ones small enough to simultaneously fit into a smartphone,
and
provide enough performance muscle, is darn hard. That's why the Snapdragon 810 -- Qualcomm's next 'flagship' chip -- is still nowhere near market-ready, and won't be until 2015, even though the company announced it months ago. Need proof? Well, the team behind the AnTuTu benchmark just had their first sighting of the new silicon.
The 64-bit, octa-core Snapdragon 810 touts an Adreno 430 GPU, and two sets of four Cortex-A57 and Cortex-A53 cores, respectively. All said, this new combo is expected to provide some serious performance benefits over the Snapdragon 805 -- up to 50% more speed, while also drawing considerably less power.
In case you were wondering, the SD810 was powering what we guess is a prototype device with a 6.2-inch, 1600 x 2560 pixel resolution display and 4GB of RAM (that the SD810 can address in their full). The device in question was running Android 4.4.2 KitKat.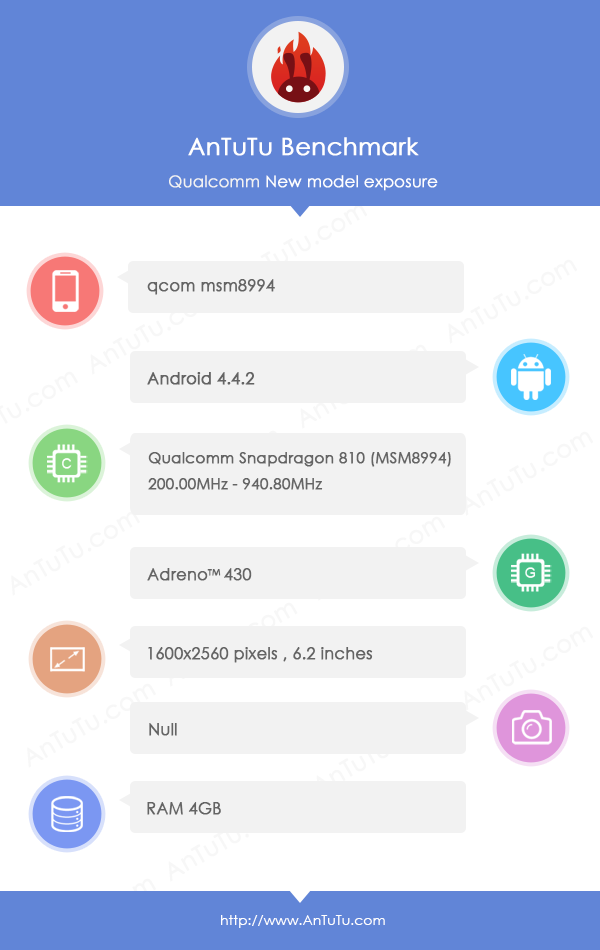 2015 can get here sooner -- that's all we're going to say.